Pokhara & Jomsom Trekking
Pokhara
On November 6 we got up early for the bus ride to Pokhara. We made this bus ride two years ago as well, but then it was quite cloudy. This time we had more luck. The 7-hour drive (about 200 km!) took us on a beautiful road along river valleys, with beautiful rice terraces, beautiful green mountains with banana trees, bamboo and nice cozy villages with wooden or corrugated iron houses and in the background the enchanting sight from the white peaks of the Himalayas with peaks above 8000 meters. Magnificent.
At about 3:00 PM we arrived in Pokhara and were immediately back in summer. Clear blue skies and temperatures above 30 degrees. Wonderful to relax and enjoy the tranquility of Fewa Lake, with a view of beautiful green mountains with rice terraces and behind the even higher white mountains.
Pokhara has undergone rapid development in recent history. In 1952 the first plane landed in Pokhara. At that time, the car was not yet in use in this region. 6 years later, the first car was also flown in, because there was still no road from India or Kathmandu to Pokhara. Large areas to the northwest of this city are still only accessible on foot. After road connections with Kathmandu and India were established in the 1970s, the rapid development of the city began, which is now one of the largest and most modern in Nepal. The real center is quite unattractive, just a large industrial city, but on the shores of Fewa Lake and the neighborhoods in that area there is a serene tranquility and everyone seems to be relaxed and in absolutely no hurry. The few cars and motorbikes that drive there pass at a snail's pace and hardly make any noise. What a difference from Kathmandu!
In this Lakeside area you will find many small tourist hotels between ordinary houses with adjacent fields and at many houses you will also find stables with cows, goats, chickens etc.
We first relaxed here for a few days, sat by the lake, read books, cycled along the lake and gathered information about trekking. We also visited the Jyoti Job Training Center. In this center, underprivileged orphans or street children or children of extremely poor parents are offered the opportunity to receive education and get some job training. In addition to the "normal" school subjects such as Nepalese, English, mathematics, etc., lessons are also given to train the children to become a plumber, electrician, administrative assistant or hairdresser, etc. For more information see www.childwelfarescheme.org.
Flight to Jomsom
After we had gathered enough information about trekking in the Annapurna Mountains, we decided to make the Jomsom trekking with the extra day hike to Muktinath. The plan was to fly to Jomson from Pokhara and then walk back. For about 45 euros you will be brought between the Himalayan peaks in a good 15 minutes to Jomson, which lies at an altitude of almost 3,000 meters. Of course, that saves a lot of climbing and a lot of time, because we really didn't want to walk for more than 7 to 8 days.
Wednesday, November 10, we got up early for the flight to Jomsom. Since the mini-plane flies to Jomsom purely on sight and therefore without radar, the weather must be clear. That did not seem to be a problem beforehand, because the weather had been very clear for 4 days, but on this morning it was overcast. We feared that the flight would be canceled. The owner of the guesthouse called the airport and they did not know whether the flight would go ahead. Half an hour later, however, people from the airport called back (what a service) that the flight was still going through.
The flying minibus took us in a beautiful flight through the deepest gorge in the world (the mountains Annapurna I – 8100 meters and Dhaulagiri – over 7000 meters left and right and below you the river Kali Gandaki at only 1000 meters). We were all the way in the front, so had a beautiful view of the white Himalayan peaks on 3 sides.
From Jomsom to Kagbeni
15 minutes later we were in cold Jomson, a world apart from the almost tropical Pokhara. Due to the temperature and the white peaks we immediately had the winter sports feeling.
The first day we walked through the riverbed of the Kali Gandaki to Kagbeni. A bare and rocky landscape. Kagbeni is a nice little town in Mustang that already looks quite like Tibetan villages. During the course of the day a strong wind starts to blow here every day from the same direction and at the same time.
Suddenly there is a stop sign for tourists on the north side of Kagbeni. They are not allowed to enter the "Upper Mustang" area here unless they buy a $ 700 trekking permit for just 10 days. This is to protect the nature but especially the culture of this area against the negative impact that tourism apparently always has on these 2 things.
In Kagbeni we visit an old monastery with very nice monks. After talking with great interest for a while with the leader of the monastery, Arno is invited to attend a prayer ritual in a small room at the top of the monastery. Unfortunately, women are not allowed to attend.
At half past five it is dark and it quickly gets very cold, so we crawl into the "living room" of the guesthouse together with the other hikers. We have to get used to this for a while, because in this guesthouse there are almost as many tourists as we saw in a week during our previous trek. So the popularity of this draw has its pros and cons. On the one hand it seems a bit less special, on the other hand the facilities are much better and you meet new people every day with nice interesting travel, trekking and life stories and you get an evening by the fire in the guesthouse. kind of a cozy winter sports atmosphere, where the experiences of the last days are exchanged.
Kagbeni – Muktinath
The next day we leave our belongings in Kagbeni and walk to Muktinath at 3800 meters, where there is an important monastery for both Buddhists and Hindus. Many pilgrims come here, among other things, to the eternal flame that burns here in a temple above a bubbling water source. This flame is said to have been lit by Buddha or Vishnu himself. For non-religious people it is no more than a small natural gas flame in a beautiful place.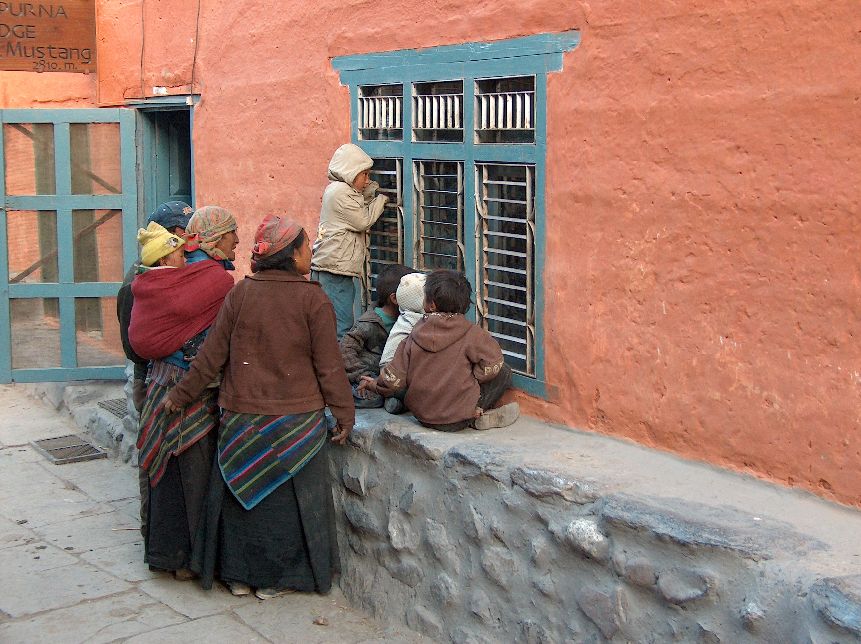 On the way we meet a certain Marko with his Nepalese guide. This guide thinks he recognizes us. Now you hear this regularly in Nepal and it is always a cheap method to start a sales pitch, but this time it turns out to be true. Two years ago the man worked in a guesthouse in Kathmandu where we stayed at the time. He has since became a trekking guide. We walk with him for a while and catch up a bit.
Our porter and this guide are apparently not so close to each other and behind each other's backs a kind of mud juggling starts over each other. The guide would drink too much both during the evening and early morning, our porter would be unreliable and steal. This gossiping is a nasty habit of guides and porters, which would occur a few more times later that week and what we also hear from other hikers and owners of guesthouses. In any case, they do not promote the pleasure of their customers. Very weird.
The long way back to Kagbeni is actually a bit too much for the second day and we both arrive at the guesthouse with quite sore feet.
Jomson – Tukuche
The third day of walking again through the riverbed via Jomson to Tukuche. On the way we come across many caravans of mules. These caravans are the main means of supplying the various villages in the mountains with supplies and transporting merchandise downhill. A happy sight. Especially the front donkeys look beautifully dressed and you can usually hear them coming from afar through the cheerful tinkling of the bells around their necks.
A Dutchman lives in Tukuche who runs the High Plains Inn guesthouse together with his Nepalese wife. Here, in addition to delicious Nepalese dishes, they also have apple crumble cake, Douwe Egberts coffee and carrot mash. Naturally, we also enjoyed the apple pie.
The Tihar festival is now in full swing. This is a multi-day festival with many rituals. For example, one day the dogs are worshiped, the next day the cows. On the last days there is a lot of dancing and singing and children go door to door to collect money with songs. The houses and streets are also decorated and on the last evening candles are lit everywhere. Our porter / guide receives a Bhai tika from the owner of a guesthouse.
Tukuche – Tatopani
In the two days after that we walk from further to Tatopani, which literally means hot water. Here you will also find hot springs right next to the river where ice-cold water from the mountains flows. Of course we grant our tired legs a very extensive warm water bath. In between we take a dip in the ice-cold river from time to time: wonderful!
After five days of walking, it becomes clear that the second day to Muktinath has been quite an attack on the legs. Especially Arno has a heavy burden. His trekking shoes cause severe pain to his Achilles tendon, which means that he has been wearing flip-flops for 2 days and is also forced to walk on them for the rest of the trekking. Well, most Nepalese also walk in flip-flops, so we adapt well in that regard.
Tatopani – Ghorepani
The sixth day almost only goes up from Tatopani at about 1000 meters to Ghorepani at about 2800 meters. Again a beautiful walk. Ghorepani is actually always mentioned in the same breath as Poon Hill and the Maoists. Poon Hill is the famous hill where you should have a beautiful view of the Himalayan peaks at sunrise, which you can almost touch. "Should have", because when we climb the last 400 meters the next morning at five o'clock in the dark, it seems quite foggy. Unfortunately we do not walk through the clouds and when it had become light above, the visibility turned out to be less than 100 meters and we saw only one large gray mass in the company of about 150 other hikers. Fortunately, we had only had good weather in the days before and had already seen many beautiful mountain peaks.
Until recently, Ghorepani was also known for the presence of Maoist rebels who demand financial contributions from trekkers. However, in the previous days we hear that a good number of rebels have just been arrested and that the government army is again taking a little bit of control in the area. One day the Maoists still show themselves, the next they don't. We are lucky and do not encounter them. We were also reluctant to contribute to their violent uprising.
After breakfast we start the long section to Naya Phul. An endless walk that unfortunately is not very beautiful due to the bad weather. After a few hours we finally get a bit of the Nepalese panache and hop down fairly easily, given the circumstances.
Running ox
In the village of Tikhedhunga we get a bit of a fright when behind us an ox with big horns sprints through the very narrow street. Luckily Susanne heard him arrive on time, jumped aside and warned Arno and the porter, both of whom jump against the houses without thinking or looking back. Arno is just grazed by the beast, but it ends well. Shortly after the ox a man appears on horseback who had chased the ox down the alley way too fast. Arno gives him a small poke to move him to a slower speed and the porter is furious at the fact that the man is endangering people. Later in the village we meet him again. The man is furious because Arno would have "booed" him and does not want to know anything about his own mistake. The villagers already know the man better and do not believe his story. We are reminded to keep walking while our porter was left behind. Since it is about ten to one, we do not like this, but if they insist again and the porter himself says that everything will be fine, we just keep going. Fifteen minutes later he has caught up with us again and he tells us that the villagers had urged him to give the ox-man two strokes of the cane and thus consider the matter to be settled.
The trip to Naya Phul takes much longer than expected and despite the fast pace that we maintain in the afternoon, after a 12 hour walk we arrive at Naya Phul at dark, where we take the bus back to Pokhara.
Back in Pokhara and on to Kathmandu
In Pokhara we still have 3 days to relax. 
Unfortunately the weather is not as good as before the trek, but still about 25 degrees. We pay a visit to the Tibetan school where Jaap, one of the volunteers from Cross Borders, should accompany the English teacher. Unfortunately there is temporarily no teacher, so he has to take care of the lessons himself, which he does very well without any teaching experience.
On Saturday, in between two multi-day strikes, we drive back to Kathmandu, where the number of tourists has calmed down considerably in 2 weeks.
Back in Kathmandu we resumed the daily business, including work, computer lessons in the children's home and the salsa lessons. It is especially nice to go to the children's home and take care of the computer lessons there.
It will probably be clear that we are having a great time here in Nepal. This week we have therefore taken an option on new tickets and will almost certainly return to Nepal in mid-January until the beginning of June. Then we will come back for a nice summer in the Netherlands anyway, because in Nepal and North India it is not to endure because of the monsoon.