Kathmandu – Lukla and trek to Monju
May 6 in the morning (5.15 am, pooh) we left for Kathmandu airport to fly from there to Lukla. Lukla is the starting point of their trekking in the Everest area for many. Especially for those who do not feel like or have the time to walk from Jiri for 8 days (which seems to be worthwhile). We were only with 2 other passengers in a 19 person airplane, all other seats were completely packed with cargo: soft drinks, beer, noodles you name it. Everything was neatly tied of course (ahem). It was a beautiful flight with a beautiful view of the mountains, where the plane also skimmed past or over mountains every now and then. It is clear to us why flights only take place if visibility is good. After half an hour the pilot started the landing, where he was very difficult to peer through his heavily scratched windshield. Due to the backlight of the sun and the scratches you could hardly see anything through it. Only just before landing the plane came into the shadow zone of the mega mountain behind Lukla airport and we could see the small airstrip. Before we could hit the steep mountain wall, the pilot neatly landed the plane.
From Lukla we also had a good view of beautiful snow-covered mountain peaks and beautiful green river valleys. We walked directly to Phakding, the intended end point of that day. However, after a nice walk of about 3 hours we were already there at 11.00 am, so we decided to do a bit of the much tougher 2nd day and eventually ended up in Monju, a small farming village with a handful of lodges.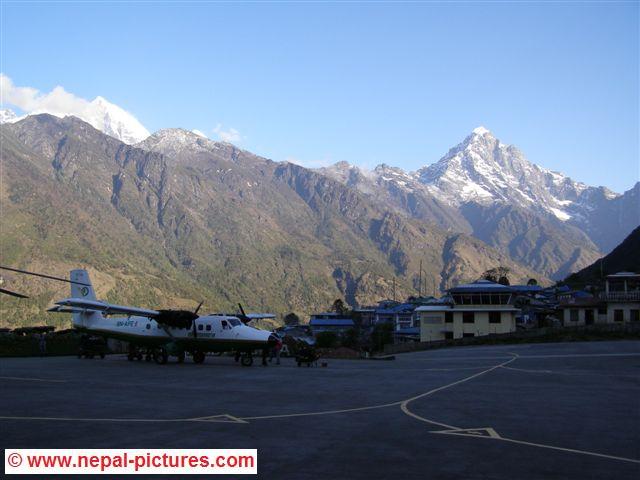 Monju – Namche Bazar
For the next day only the steep climb to Namche Bazar remained. A trip of about 2.5 hours alone up, which we had more than enough for that one day. Since we had no porter and guide, we obviously had to carry our luggage upstairs ourselves and in our enthusiasm we had overestimated our lifting capacity. In Namche Bazar we went through everything again, because without discharging a few kilos we would never make it to Gokyo.
In Namche Bazar (3420 meters) we would stay 2 nights to acclimatize. In terms of tourists it is very quiet on the trails and in the villages. Many lodges have little or no guests and a number of them are already closed. The trails are mainly populated by many porters who carry supplies to Namche Bazar and move parts for new guesthouses. It is unbelievable what an enormous weight and / or packages of bizarre size can lift a single porter.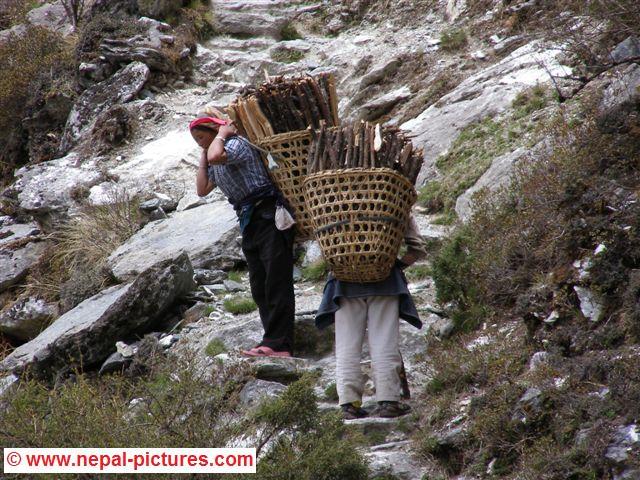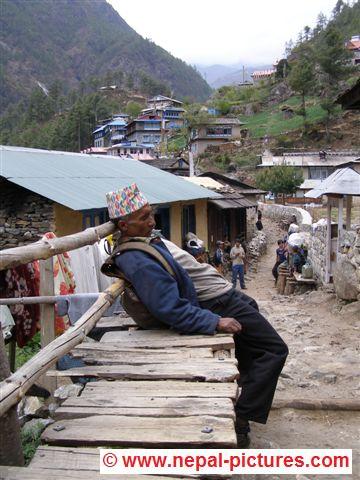 From Namche Bazar we made a day walk to nearby Thamo. A nice walk through Rhododendron forest and through beautiful mountain areas. Along the way we encounter several Yak caravans that transport merchandise through the mountains.
Back in Namche Bazar we quickly check our email, which is made possible here in the mountains via a satellite connection at a cost that is 120 times higher than in Kathmandu.
Namche – Phortse Thanga
The next day (9-5) we leave Namche (each a kilo or 3 lighter) and head for Phortse Thanga. We have the time and take the long route through a number of Sherpa villages: Shyangboche, Khunde and Khumjung. In Shyangboche you will find the now decommissioned airstrip of the Everest View hotel above Namche Bazar. Previously, guests for this expensive hotel could be more or less dropped off the door with small 6-person Pilatus Porter planes. Unfortunately, all these planes have now crashed and can now only be flown to Shyangboche by helicopter.
When we arrived in Khunde and Khumjung it was noticeable that these villages look good, especially for Nepalese mountain village concepts. Fairly good and well-maintained houses, often with primitive sanitary facilities. No water and the toilet is a hole in the ground. The people generally look nice and grubby Nepalese. But a number of conversations show that appearances can be deceiving. Behind some of these poor looking people there are quite rich families. Many people appear to have one or a few lodges, to have been to Europe and / or America several times and a number also have children who study in the US.
In Khunde we have a drink in a lodge that is just then blessed by a large group of monks from Tengboche. During this time these monks go to Khunde and Khumjung to bless various lodges and houses in exchange for food and money.
After lunch in Khumjung it becomes very foggy and we decide not to walk further towards Phortse Thanga and we hope that the next morning the weather will be better, so that we can enjoy the beautiful views while walking.
Later in the afternoon, after a heavy rain shower, it suddenly cleared completely and we could see that we were in the middle of all kinds of beautiful Himalayan peaks of 6, 7 and 8 thousand meters high. We have a beautiful view of the famous peaks of Ama Dablam, Kantega and Thamserku, 2 peaks that are not nearly as high as Mount Everest, but have considerably more spectacular shapes.
We dive into our room early and when Arno wants to go to the toilet, it turns out that we are locked inside by the owner. We couldn't go out through the windows either. Fifteen minutes of shouting, banging and flashing lights does not help, so in the end we force the entire front door with a number of firm jerks. Suus walked to the owner's house next door, where they were busy with a noisy puja. Later there was also a kind of procession through the village and the garden of the lodge, all this again with a lot of noise.
Fortunately, the owner takes a laconic assessment of the damage to the door (with a room price of a single euro per night, a broken front door can of course have a lot to do with it) and immediately starts the repair. It was a mistake. Apparently they hadn't had guests for some time.
The next morning we are already beaten out of bed at 6 am by the children of the owner who are running through the lodge and garden. Shouting and brandishing toy guns with light and sound "Fire, fire, rettettettettet". Wonderful that peace in the mountains. But yes, any disadvantage has its advantage. We arrive early and can enjoy a beautiful clear morning and start early on the walk to Phortse Thanga and on to Dole (spr.out: Doe-lee). The road first goes up a lot to Mong-la, then a lot more down to Phortse Thanga (all for nothing), to finally climb even more to Dole. A tough day, which is more than worth it because of the beautiful mountain views and the walks through Rhododendron forests, where you can also see colorful pheasants from time to time.
Dole – Machchermo
In Dole (4100 meters) it quickly becomes foggy and therefore very cold. At night it rains a lot, which is quite annoying since the toilet is outside, because of the cold and all the dripping noises you have to do from time to time.
The next morning Arno has a mild headache and fever and the throat and nose has become a bit worse. He also had a cold in Namche, so we decide that it is not an altitude sickness and we set off to Machhermo (4400 meters), which should also be a fairly short walk of 1 to 2 hours.
The walk turns out to take a little longer and to be more difficult than planned and more than 4 hours later we arrive, especially Arno, completely broken in Machhermo. We decide that we want a better lodge than the previous nights, but the locals don't seem to be very willing to help us further, so we go to the lodges ourselves to see if there is one that is slightly higher (read less low) standard. Eventually they succeed, Arno immediately falls into bed and Suus goes to the "dining hall", where she finds all 11 other hikers who keep up with our Gokyo. Fortunately, after a few hours of rest, some hot tea and the well-known noodle soup at Arno, the strength is restored and we know for sure that it is not an altitude sickness that he suffered from.
The nights are getting colder and in addition to some extra thick blankets, we now also have to keep our hats on in bed to have a little more time.
At 3 a.m. (we have already sat up for 7 hours) we wake up for a moment and notice that it is really clear outside, we put on our coats and enjoy the beautiful starry sky and the lighted by a faint moon. Mountain ranges. We hope it stays that clear and set the alarm for 5.30 am to start a beautiful walk early if necessary. Unfortunately it is completely cloudy and foggy again so we turned off the alarm completely. However, at 7:00 am we wake up again to enthusiastic sounds from other hikers. It is completely clear again and a number of them are already about to leave. We also hurry, because we first have to climb a small hill before the real nice view comes. The view from this hill is indeed beautiful.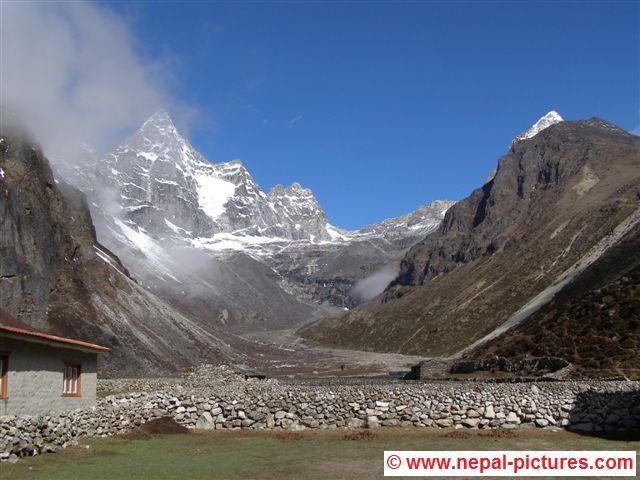 With a view of Cho Oyu, at 8200 meters the fifth highest mountain in the world, we walk through the Dudh kosi valley towards Gokyo, which makes a deserted impression. Gokyo (4750 meters) is located on the Dudh Pokhari (milk lake, one of the 6 turquoise colored lakes in the area of ​​Gokyo) and the Ngozumpa glacier. On the way we had already walked a short distance along this glacier, but did not recognize it as quickly as a glacier. The farther from the base of the mountains, the more the top layer consists of gray boulders and rubble, so that at the end it looks more like a quarry than a glacier. What a huge difference from the white / blue glaciers in Patagonia.
Together with 4 Russian hikers we are in the Gokyo guest house with a very nice owner. This is totally worth mentioning, because in most lodges you are treated more like a walking money machine. This is in contrast to the contact with other Nepalese (porters, farmers, etc.) on the trails who are much friendlier and like to have a chat with you.
The Russians like to have some Nepalese music while eating. When the short band is finished, another one with western music is set up. And yes, in no time the Venga Boys will be blaring from the speakers again. Nice for Wessel van Diepen of course, but now and then you get tired of being confronted with this simple but for many contagious "music" all over the world. Who takes the trouble to lug a tape like that up the mountain?