Tilicho Lake trekking, Nepal
Travel report of a trek to Tilicho Lake in the Annapurna region of Nepal
On May 17th we gather at the trekking office at 8:30 am and not at the horrible time of 6:00 am as the agent would like, but against which we protested strongly. Santosh's knee and elbow are fully bandaged. He looks more like he has just returned injured from a trek than he is fresh at the start of an adventure. From the trekking office we go to the Gongabu bus station. In the end, we only left there at 10:00 am with the microbus to Besi Sahar, where we arrived at about 4:00 pm.
Here the guide arranges an extra porter and we took a packed local bus to Bhulbhule via a very bad road. After about an hour and a half completely shaken up and moving barely faster than would have been on foot, we arrived in Bulbhule. Here it turned out that our guide had an old trekking plan with him and not our plan discussed later, in which we would make another short trek the same day. The staff was not prepared for this and still had to do some shopping and make preparations in Bhulbhule.
We spent the night in a simple lodge where we were joined by huge spiders, cockroaches and other large insects. Around midnight it started to thunder and rain which made a huge noise on the corrugated iron roofs. The rain would not stop until around 9:00 am, so we left much later than planned and were even more behind on our schedule. A schedule that was fairly tight due to work obligations of Santosh and Sangeeta and acclimatization wishes. In addition, Santosh's knee made it difficult to make longer days or to walk faster.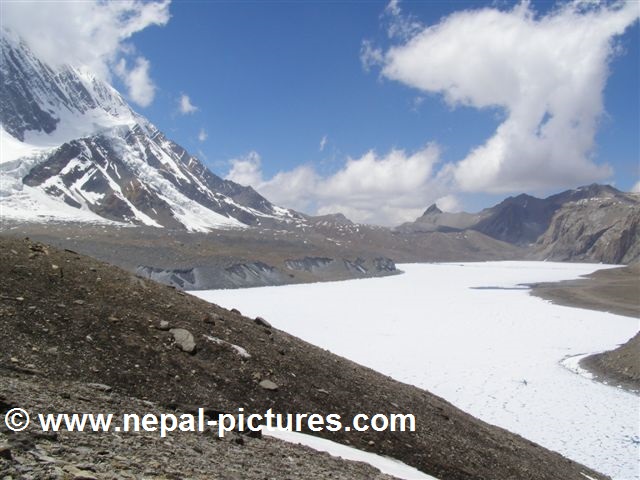 Bhulbhule – Bahundanda
We hiked through beautiful countryside towards Bahundanda (= Brahmin (= highest caste) top). Just before Bahundanda we were caught in a heavy shower and we rushed to the top to pant out in Anjana restaurant and enjoy lunch. This restaurant turned out to be run by a frustrated Swiss and his Nepalese wife. When he hears that the group of guests consists of five Nepalese and a Westerner, he starts, just as Sangeeta enters the restaurant, to scold and rant, like: "5 Nepali guests and 1 foreign tourist, what kind of business is this. Those Nepalis eat like lions and pay hardly anything, better no business than this business "(Sangeeta in particular is seriously offended, I just think the man is particularly unsuitable for his job). After this rant, the Swiss and his wife still have the illusion that we will stay for lunch. Of course we will look for a better host / hostess. We find it in the Superview & Top of the Town restaurant and enjoy a delicious lunch, a beautiful view and the tranquility. The latter is suddenly brutally disrupted by the sound of huge explosions at close range, causing the ground to vibrate and the windows to rattle. On the other side of the river, it appears that work is being done on the road from Bhulbhule to Manang, for which here and there large pieces of rock have to be cleared out with the help of explosives.
During this lunch, but also at many subsequent stops, Santosh treats his injured leg with a Japanese tool, including a kind of wooden pipe that he rolls hard over his muscles. I also test what he is doing, the process is quite painful. However, according to Santosh's miracle doctor, it is good for blood flow and therefore for recovery.
On to Syanje
After lunch we continue to Syanje. On the way we are again attacked by the rain. At one point, I took shelter in a local restaurant, which is packed with hiding road workers. These men are employed by the company to which the government has outsourced the road works. For working days from 5 am to 7 pm, they receive an amount of rs120 (approximately Euro 1.30) per day, which is well below the minimum set by the government. When they can do much less on a day like this because of the rain, their salary is also simply halved.
From Syanje to Thanchowk
In the next two days we walk from Syanje, via an overnight stay in Tal to Thanchowk. The route still leads through beautiful landscape, occasionally we have some rain and large parts go by road (under construction) to Manang. The latter made the experience a bit less enjoyable at times.
In Thanchowk (2750 meters) it is already quite cold in the evening and we all crawl into the kitchen with the host and the hostess. We are the only guests. In any case, we have hardly encountered any tourists on this popular trekking route. As a result, we all fit into the kitchen, around the fire on which the hostess prepares our food. Meanwhile, a story is told about the Yarchagumba harvest. The Yarchagumba is a very special organism (half animal / half plant) that only grows at high altitudes (3000-5000 meters). A special permit (rs 5000, approximately Euro 55) is required to be allowed to pick these plants, which then yield rs75 to 85 for a stem of approximately 7 centimeters. This is because of the (alleged?) medicinal effect of the plant, which is used, among other things, to make delicious, but expensive tea.
This spring, an "army" of approximately 1,500 pickers is active in the Thanchowk / Manang area. The hosts have received hefty orders to prepare chicken and make raksi (local alcoholic drink).
The next morning I take a short detour before we actually hit the road. Someone has parked his horse with foal in a narrow road. When I pass this duo, I get a kick on my knee from the foal, the beast keeps on pedaling. Fortunately, I am immediately at a sufficient distance and it stays with one direct hit, but my knee hurts a lot at first. Fortunately, this pain diminishes quickly and I hardly suffer from it (anymore) during real walking.
Read more:  Thanchowk to Tilicho Base Camp