Manakamana & Bandipur, Nepal
17 – 19 nov – Manakamana & Bandipur
The weekend of 17 to 19 November we went to Manakamana and Bandipur. These two towns are close to each other, roughly half way along the Prithvi "Highway" between Kathmandu and Pokhara.
Manakamana can be reached from the hamlet of Cheres by cable car, currently the only one in Nepal and fortunately Swiss-made. The Manakanama mandir (= temple) is located in Manakanama. People come here in very large numbers on Tuesdays, Saturdays and holidays to make offerings to the Goddess Bhagwati (incarnation of Parvati, the companion of Shiva) who makes wishes come true and newlyweds pray here for having a son.
Since we had already understood that it can get very busy on Saturday, we left early on Friday morning. With a reasonable delay we arrived around noon by bus in Cheres, where there was a long line in front of the cable car. The price of 3 average Nepalese daily salaries (for us 4 times more) apparently does not prevent Nepalese from traveling to this temple in their hundreds at the same time. Fortunately it goes quickly and more than half an hour later we are in a gondola on our way to the 600 meters higher temple. From the cable car we have a beautiful view over the valley of the Trisuli river, the (rice) terraces and the mountains in the area.
Upstairs it is a kind of big Nepalese "party". It is bursting with stalls that sell all kinds of knick-knacks, souvenirs and sacrificial material (including goats and roosters) to the pilgrims, who walk around in beautiful clothes and often armed with (digital) cameras. Everything about this unique visit must be recorded.
After we have arranged a place in one of the many guesthouses, we also take a look at the temple. There is a long line of pilgrims waiting very patiently for their turn to make their wish to Bhagwati. Behind the Manakamana temple is a small temple where goats, roosters, ducks and pigeons are sacrificed continuously. The blood flows with hectoliters.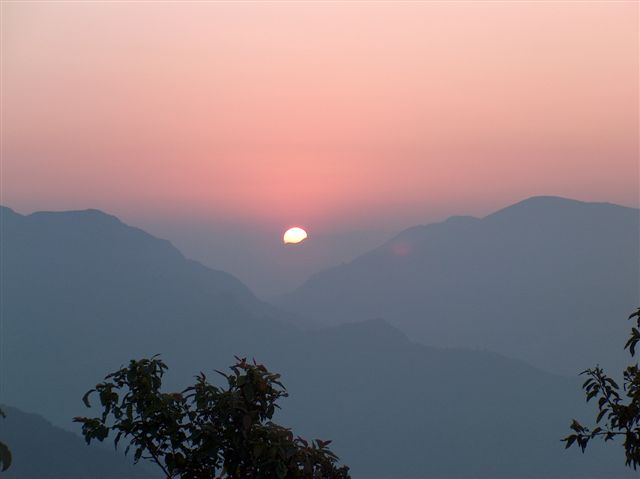 After watching the event for a while and working inside a dal bhat, we start a climb to Lakhan Thapa Gufa, a sacred cave on top of a mountain peak from which you should be able to have a very wide uninterrupted Himalayan view. A few kids accompany us upstairs and show us the way. Unfortunately, we are not very lucky. The highest peaks such as Annapurna and Manaslu are clearly visible. However, the low-lying clouds obscure most of the lower peaks. The view over the valley illuminated by the setting sun, including the town of Gorkha, is fortunately also beautiful.
It is already dark when we return to Manakanama, where the offerings continue uninterrupted. The cable car has already stopped and it looks like hundreds of pilgrims will spend the night in the vicinity of the temple. For most it is a festive outing and there is a lot of noise in the town.
The next morning (Saturday morning, an important day for sacrifices) it is much busier at the temple at 6 am than the day before, when we found it quite busy. We now leave the temple for what it is and look for a nice spot for the sunrise. In the valley and in front of the mountains there is a mysterious fog, but when the sun rises it in turn illuminates other Himalayan peaks with a red glow. A beautiful light show.
Around nine o'clock we keep it planned and we descend again with the cable car. Fortunately, there is no row at the top. When we have broken through the cloud cover below, we notice a queue that is at least ten times as long as the afternoon before. Rows of the Efteling, for example, fade and once at the top, the pilgrims have to stand in a long line one more time. Later we hear that the cable car carried about 6,000 people that day.
To Bandipur
We are lucky and can immediately board a minibus towards Pokhara which drops us off in Dumre. Once there we see that the jeep to Bandipur with about 12 people is already full. However, full is a relative term. Another spot is made inside for Susanne. Arno can go on the roof together with 4 others and with some more mashing and hanging, another 14 people can join us. The winding road to Bandipur with a view of Annapurna and other peaks is beautiful. Bandipur is a nice authentic Newari town with 18th century architecture, an oasis of tranquility. It is not very touristy yet, there is hardly any motorized traffic and the people are extremely nice. Probably there are also severe penalties for begging, as no child begs for pens, candy or money, but instead almost all of them deliver the "namaste" greeting with their hands neatly folded across their chest. It is the time of the orange harvest. By the time we leave the village, we can pretty much start our own wholesale business, because people everywhere insist on supplying us with oranges.
The village itself is nice, but it is mainly the people and the environment that make Bandipur a very pleasant destination. The hills are a bit rougher, with steep rocks and cliffs and beautiful terraces here and there.
We make, among other things, an approximately 3-hour walk to the Siddhu Gufa, a deep cave, where no entrance tickets or guides are required and which you can "discover" yourself (bring a good flashlight).
The slippery path to it led along steep cliffs and through beautiful terraces. Although the road was not too difficult, we still took a wrong turn at a fork. Fortunately, it did not take long before we arrived at a small house. The lady of the house spoke a local dialect and hardly knew any Nepalese, but nevertheless she could show us the way with gestures and a small word of Nepalese, so that this cave did not pass us by. We didn't have much time left before dark.
During dinner we meet an English tourist and exchange fun travel experiences. After dinner we take a short walk through the deserted village to enjoy the beautiful starry sky. The Milky Way is very clearly visible and we can see several shooting stars within a few minutes. Suddenly another tractor and trailer pass by. When we walk back to the guesthouse, at this late hour it appears that another tractor with trailer has come from the other side through the narrow streets. The drivers have apparently only learned to drive forward with a trailer and on the steep hill it takes almost half an hour to make room for each other and the quiet town is plagued for a long time by roaring engines.
Sunday morning we woke up early again and went to the parade ground to see if there was a nice view. Unfortunately that day was a bit disappointing. After breakfast we climbed the Gurungche hill where we enjoyed the view of the surroundings and Bandipur at the Thani mai temple.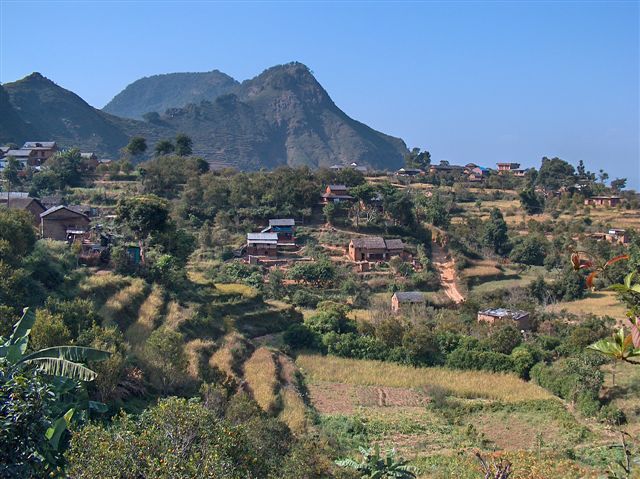 After the descent we both climbed the roof of a jeep and let us drive down the beautiful route again and took a minibus back to Kathmandu in Dumre. Chances are that we will visit Bandipur on the way between Pokhara and Kathmandu.
Another week and then the next adventure begins: the trip to Bhutan, India, Sikkim and overland back to Kathmandu with the intention of celebrating Christmas in the capital.