Susques, San Antonio de los Cobros
November 25-28: Susques, Puna, San Antonio de los Cobros, Cafayate
Friday November 25th we leave Yavi on time in the morning because we want to make a long day. We first want to go to the Laguna de los Pozuelos, a lake of approximately 16,000 hectares at an altitude of 4200 meters. Here you can find tens of thousands of flamingos in the summer.
However, from the owner of the hostel in Yavi, who we give a lift to La Quiaca, we hear that the laguna is still almost dry, after a dry summer and a dry start of spring. It is therefore not that beautiful and there are relatively few flamingos and other birds.
Since the road to it is quite bad and not so beautiful, we decide to change our plan and drive directly towards Susques. We drive via Abra Pampa and then the gravel road of route 40 towards the Salinas Grandes, a large salt lake west of Purmamarca. This route was advised against us by a car rental company, because the road would be very bad and there would be hardly any signs indicating the direction. However, it turns out to be a pretty good but very quiet road. In the 1.5 hours that it takes us to drive 110 kilometers, we do not encounter a single car, but we do see many herds of llamas and vicuña. Then we drive over the salt lake to Susques. This turns out to be a very small place, which is mainly visited by trucks and buses from / to Chile. There is hardly anything else to do. We decide to stay there anyway, because the next place to spend the night is a three to four hour drive and we were pretty tired. We go for a walk in the rather nice, rough and rocky environment, where we don't meet anyone else at all.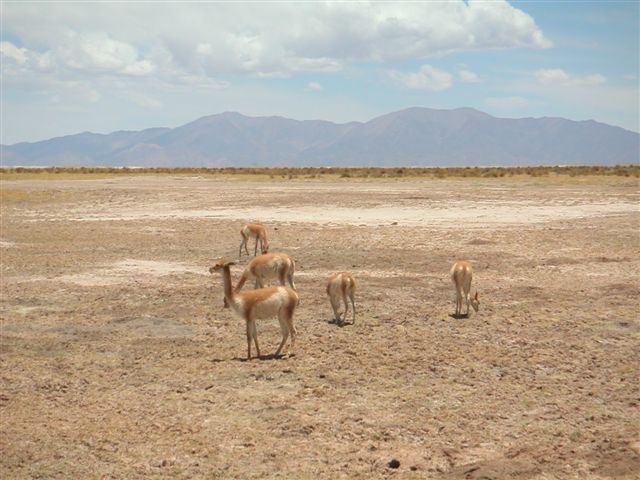 Susques – San Antonio to Salta
Saturday morning we are awakened early by the construction workers who are busy expanding the hostel in Susques. Because the environment appeals to us, we decided to follow the brand new asphalt road from route 52 to Paso de Jama (the border with Chile), return a bit at the border on the same road and then to San Antonio de los Cobros on route 70. The surroundings are indeed beautiful again: a desolate landscape with salt lakes, dry mountains, herds of llamas and vicuñas and white Andean peaks. Route 70 to San Antonio turns out to be pretty bad so we come up with an alternative plan to descend a bit to the south via Chile. After we have completed all border formalities, the customs officers still want to see the car documents and then it turns out that we are not allowed to go to Chile with this rental car because Chile does not belong to the Mercosur (a kind of EU in South America). So we have to go back and now have the choice between route 70 or the 3 times as long route via the Salinas Grandes, which we therefore already largely drove the day before and of which the follow-up may not be very good. We decide to take the shortest route, which is really pretty bad, but just not bad enough to persuade us to return to the long route, at least as far as Arno is concerned. When we finally reach route 51 to San Antonio, this old Argentina-Chile route turns out to be hardly used anymore since there is a new road. This road is also pretty bad and we don't meet anyone at all. It is a beautiful route through beautiful mountain scenery with high passes and nice salt rivers. Just before San Antonio de Los Cobros we get an exit for an even worse road to La Polvorilla. This is a gigantic steel railway bridge that is part of the railway line between Salta and Antofagasta in Chile. The bridge is 60 meters high and 220 meters long and was built roughly between 1925 and 1950 at an altitude of 4200 meters over the Rio de San Antonio de los Cobros. A special achievement for that time and that height.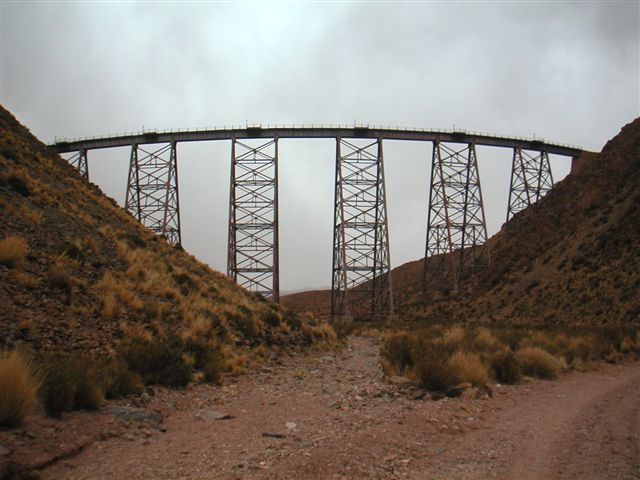 San Antonio de los Cobros itself is a small dusty mining town with mainly Quechua inhabitants and mud houses. There is not much else to do. Striking was the small church with speakers on the facade that echoed the texts of the Saturday evening and Sunday morning masses all over the town. Apart in such an Indian town.
San Antonio – Cafayate
Sunday morning we drive from San Antonio to Salta, a route roughly equal to that of the Tren a las Nubes. For the umpteenth time a beautiful route. This time, among others, by the Quebrada del Toro. Again a beautiful gorge / valley with beautifully shaped mountains and we still don't have enough of it. Due to the good road, the trip goes considerably faster than expected and we decide not to go back to the city of Salta, but to continue straight to Cafayate, a place where we have been before, but now via a different route.
Past Alemania, about 100 km south of Salta, the landscape changes drastically and we dive into a quebrada again. For a moment we thought that we might have seen enough spectacular scenery, but after almost two weeks of touring that is absolutely not the case. In fact, the Quebrada de Cafayate is so spectacular that we decide to stay an extra night in Cafayate, so that we can drive back again the next day, to see some parts again and to go for a walk in some places through the beautiful landscape. As far as we are concerned, the Cafayate area is an absolute winner. The small cozy town itself is nice for a night or two, but the surroundings are beautiful. You can approach Cafayate from three directions, all of which lead through exceptionally beautiful scenery. And as mentioned before, the Cafayate valley is excellent for vineyards, so there are plenty of opportunities to visit bodegas, taste wine and buy a few good bottles.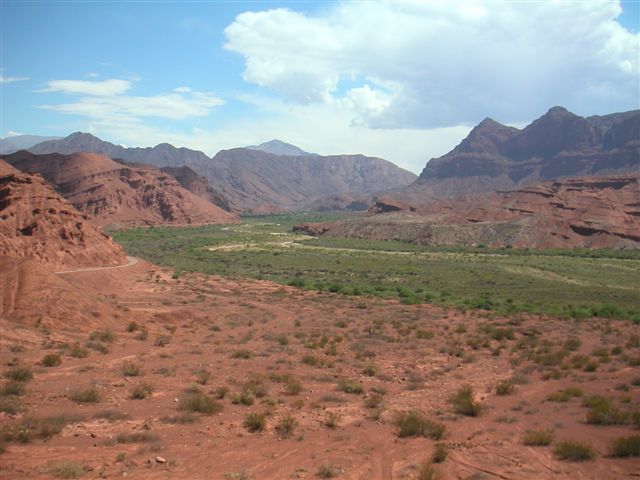 The last destination on our road trip through Tucuman, Salta and Jujuy will be Belen, south-west of Tucuman. Then we return the car in Tucuman and on to Cordoba and then slowly back to Buenos Aires. Such a large and busy city will take some getting used to.