Woooooow: Mount Kailash and Manasarovar. This was one of the most special, most splendid and most interesting trips we have made. From the empty, bald, cold, quiet, superb Tibet we are now back in the green, sweltering hot, busy, but also splendid Nepal. Still full of this splendid trip and a little disorientated after the fast descent of the Tibetan high plains through the beautiful gorge of the Bhote Kosi river to Kathmandu now we will make up for the departure to Amsterdam coming Saturday. Below you'll find our report of the Kailash/Manasarovar-trip.

Sunday 15 May.
The day of the anniversary of the Hamro Niwas children home, a day on which also the anniversaries of all children are being celebrated. Unfortunately we had to miss this, because at 6:00 AM we had to be ready for the departure to Tibet for our 14 day trip to Mount Kailash and Lake Manasarovar.
Mount Kailash is the most sacred mountain in Asia and a destination for pilgrims of Buddhist, Hindu, Jain and Bon faiths. Mount Kailash is located in the west of Tibet, far from the capital Lhasa and far from the areas already developed by the Chinese.
This first day we first drove by bus via Dhulikel to Kodari, the border town with China on the Nepalese side. Leaving Nepal went quite smoothly. A funny part of the border formalities is the fact that a Chinese official takes your temperature as an indication of your health. On the other side of the Friendship Bridge, the bridge over the border river, 3 land rovers and a truck were waiting for us. It took a while before all the stuff was transferred from the bus and the land rovers and truck had maneuvered out of the completely fixed collection of cars and truck and we could continue to the Zhangmu, the Chinese side of the border. Here an unpleasant surprise awaited us. There turned out to be a large number of almost 60 Indians and almost 60 men staff on their way to Mount Kailash and this whole group was in line in front of us, while the Chinese had only deployed one man to handle all the formalities. This took at least 2 hours. We talked a bit with the enthusiastic Indians. For Hindus the trip to Mount Kailash is a "once in a lifetime" pilgrimage and therefore of great importance. What we didn't know at the time is that it would be a beautiful but very tough trip for us and a pretty dramatic adventure for them, but more on that later.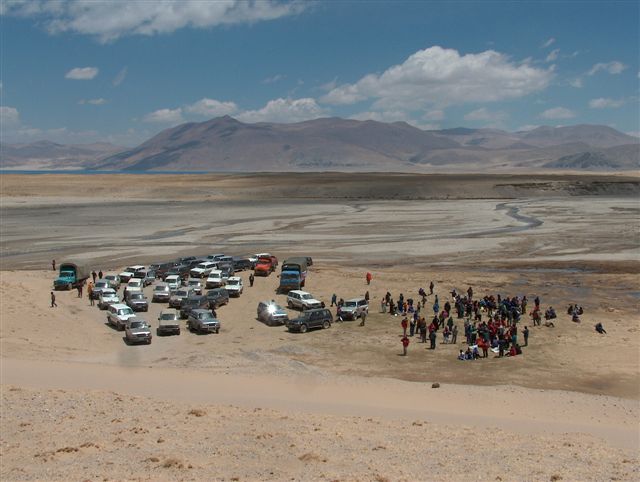 Once through customs, we drove on to Nyalam at an altitude of 3,700 meters. We would stay here for a day for acclimatization and to immediately become familiar with the accommodations that we could expect. The guesthouse in Nyalam was the only one during this trip where we would have running water. That is, there were a few taps above a sink, where ice cold water came out. We immediately let go of the illusion that we might be able to wash ourselves reasonably well in the next 2 weeks.
In Nyalam there was ample time to get to know our travel companions. This turned out to be a very interesting international group.
– A French / Irish couple who have roamed half the world and have now lived in India and Greece for 6 years. They live in an Ashram in India and earn their money from donations they receive through spiritual lessons and healings. In doing so, they pass on the lessons that their teacher gives them to their students. They both have the same teacher who passes on his lessons in their dreams. This teacher has also said they have to flee the Greek islands because something terrible is going to happen in late July or August. So if you still have vacation plans, don't go to Greece during that time. Furthermore, they are completely Sai baba devoted and Sai baba gives them all kinds of things (messages, but also material matters) without speaking to them. The man has not seen his children for 4 years, but he is also in contact with them every day without internet and telephone.
– Furthermore, we have 2 ladies from Latvia who are completely Shiva devoted and have had dreams for 6 years telling them to go to Kailash. After Kailash they move on to Sai baba in India.
– Then we have an American and a Swiss architect who are both very philosophical and spiritual, but do not follow any specific religion. The American, who faced death around the age of twenty, is a very special type, who is constantly lost, bursts out in huge fits of laughter and performs all kinds of religious acts. He was also able to tell many details about his own birth.
– In addition, an Austrian exclusive furniture maker who seems to have walked out of ZZtop in terms of appearance, but is more of a personification of Lao Tze in terms of personality. At the age of 10, he learned during a training by priests the beautiful message of the Bible, but also that he was not so fond of the institution "The Church" and certainly not with the messengers of God's word, some of whom are particularly annoying. practices.
– The group is completed by a sober woman from Limburg, The Netherlands
The Nepalese guidance was excellent. They provided a meal for us 3 times a day and were ready for us almost day and night full of kindness.
The ride to Kailash really started on Tuesday 17 May. First we went over a high mountain pass of more than 5,000 meters where you had a beautiful view of the Himalayas that you could almost touch, so close were the huge white peaks here. Immediately afterwards we left the Friendship Highway, which runs from the border via Lhasa to Shanghai (it takes about 10 days to drive all the way down). The highway is largely a bumpy gravel road, but immediately after the exit this turned out to be a relatively very beautiful road, because there was actually no question of a road towards Kailash. It was more like a trail through the rugged landscape drawn by the many vehicles that had gone before us. So we sat bouncing on our seats for hours, but had an extraordinarily beautiful view of the north side of the Himalaya range in the south of the valley and the Gangdise mountain range north of the valley. After a few hours of driving, together with the dozens of Indian jeep we got stuck in some sand dunes near a turquoise Paiko Tso lake and at the foot of beautiful white mountains. We made a virtue of necessity by having lunch here, while dozens of Nepalese were busy pulling out the many cars that had gotten stuck. The next delay followed a few hours later. The bridge over the holy Brahmaputra river was still not completely finished and the cars had to cross this river by ferry (pedestrians could already use the bridge), with 3 to 4 vehicles per crossing. The ferry was pulled back and forth on both sides of the river by a jeep or Tibetan tractor. A crossing soon took 10 minutes to 15 minutes and there were perhaps 50 vehicles waiting for us. At least 3 hours later and half frozen by the icy wind we could continue for the last minutes towards our overnight stop in Saga. We were supposed to go camping here, but as it was already so late we decided to take a guesthouse.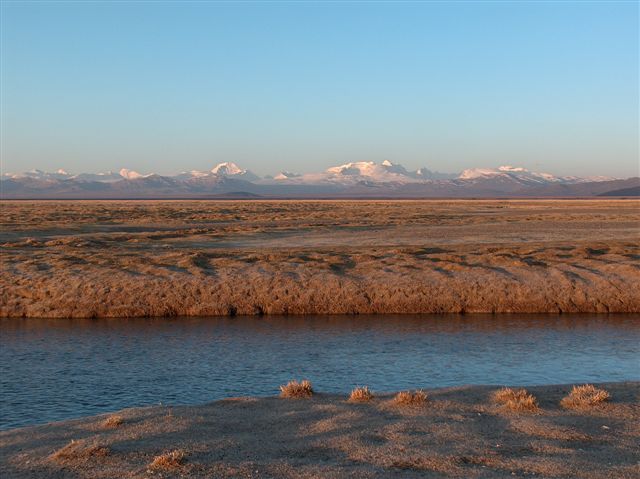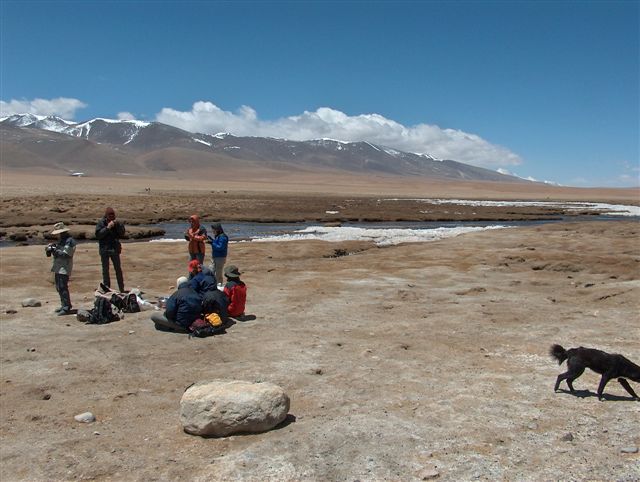 The next day we continued our way along the beautiful Himalayas with now also many frozen rivers with beautiful thick layers of ice, large ice floes etc.
On the way we were stopped by a truck with the Nepalese escorts of the Indians. One of the Nepalese suffered from altitude sickness. He could no longer stand on his feet, no longer communicate, and had to vomit all the time. His comrades were desperate, they did not know what to do and of course we too could do little. We helped them use an oxygen bottle and gave diamox (altitude sickness pills) and promised to tell the rest of the group of Indians that 1 person was seriously ill. The best remedy is to descent, of course, but we got to a point where a serious descent of several hundred meters was almost a full day's ride.
Powerless we drove on to a camping spot beyond Paryang. Here we set up our tent camp for the first time in beautiful surroundings, but also in an icy storm.
An unpleasant surprise awaited us. Many tents appeared to have holes and each tent had one or more zippers that did not work properly. Furthermore, the sleeping mats were wafer thin. That promised something for the night. It turned out to be ice cold, whereby temperatures of minus 10 were measured inside the tent. The next morning it turned out that most people had been unable to sleep because of the cold. Fortunately, the sun soon came out on the open plain, so that we could warm up a bit and enjoy the beautiful view over the plain with the Himalaya range behind it. During this trip the water for drinking and cooking was mainly taken from rivers and lakes and was often a bit cloudy, but apparently good enough. After breakfast we drove on in about six hours to Darchen, which lies at the foot of Mount Kailash. After last night's shock, everyone gave up camping for a while and we decided to spend the night in a guesthouse. In the Kailash area, the only difference between a guesthouse and a tent is the material of the walls of your night quarters, because even at a guesthouse you do not have running water and for your toilet needs you just have to go outside. With a bit of luck there is a separate cubicle (with even more luck, a covered cubicle) where you can relieve your needs in a hole in the ground. With some bad luck, you just stand out in nature in the icy wind and snow.
The Mount Kailash Kora
On Friday, May 20, we left for the three-day walk on the Kora around Mount Kailash. We were supposed to have a herd of Yaks ("Tibetan cows") to bring our luggage, tents and food. However, because the Dolma La (5630 meter high pass) was still completely covered with snow and ice, it was not possible to use Yaks or horses. Fortunately we were able to arrange a large group of Tibetan porters for this job, otherwise it would have become quite difficult.
After a walk of about 10 kilometers, we met the large group of Indians at the Kangnyi Chorten (or stupa) in Tarboche. Tarboche is the last point where you can get to by jeep. It turned out that their dream had already fallen to pieces. Most of them were of reasonable age and suffered from a less good condition or quite a bit overweight, so their plan was to ride the kora on the back of a Yak or horse. So that wasn't possible because of the snow. A disaster for these pilgrims, as they came all the way from South India for this one-time trip to Kailash and would never complete the Kora. However, the mood in the group was even more depressing as one traveling companion with severe altitude sickness had been evacuated by helicopter and worse, one traveling companion had already collapsed due to altitude sickness, had not received medical help in time and had died of altitude sickness. Obviously the mood in this group was quite depressed, but perhaps more laconic than we would expect in such circumstances: "What to do?" was the mantra. Perhaps this is also because death during a pilgrimage for Hindus earns a lot of points for good karma and perhaps leads to Nirvana.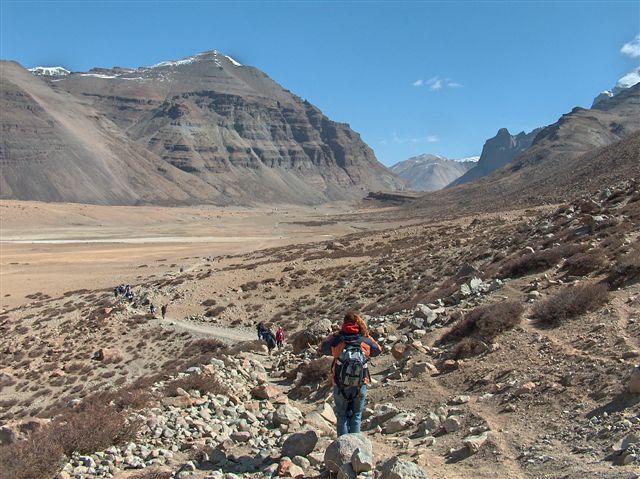 So under the motto "What to do" we continued our way towards our first camp at Dirapuk Gompa (Dirapuk monastery) on the north side of Kailash. We walked through a beautiful deep gorge, along a river that was still full of ice and snow in several places and constantly had a magnificent view of the mountains and of course Kailash itself. Wonderful to see how nature takes its course here, with tilted layers of the earth, rock walls eroded by wind and water, rocks split straight in half and many beautifully cut and colored stones with all the colors of the rainbow.
Due to the altitude (Dirapuk Gompa lies at 4900 meters) it was quite a tough hike and around five o'clock we arrived at the camp, where it started to snow lightly almost immediately.
We all huddled together in the dining tent and so at the north foot of Mount Kailash the spiritually tinted conversations soon started again. In any case, the life stories and visions of our travel companions were very interesting to listen to and it was nice to exchange ideas with them.
Fortunately there was hardly any wind that night, so that we were less bothered by the cold in our tents and the next morning we were somewhat fit to start the difficult day with the climb over the Dolma La (5630m). A very nice walk that mostly went over frozen and snow-covered rivers and mountain slopes. Accompanied by cheerfully whistling, laughing, singing and / or praying Tibetans with prayer wheels in hand and cheerful tinkling bells on the hip, we slowly floated upwards. On the way we passed, among other things, Shiva Tsal where Tibetans massively leave garments behind and possibly take others with them, symbolizing a kind of rebirth.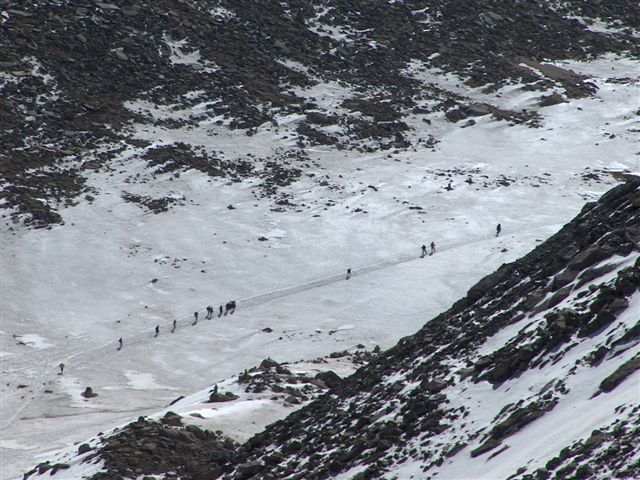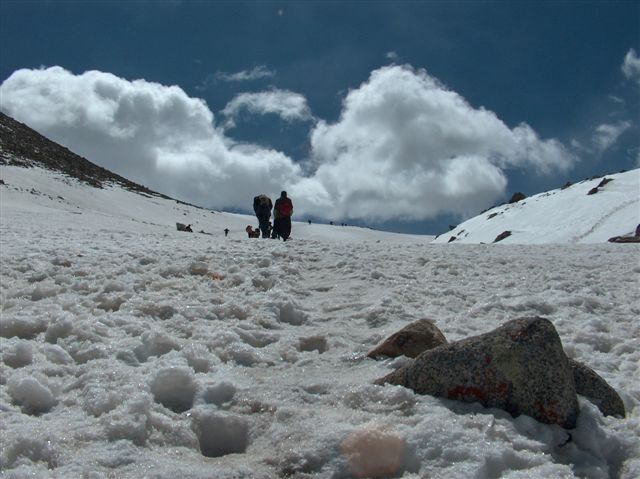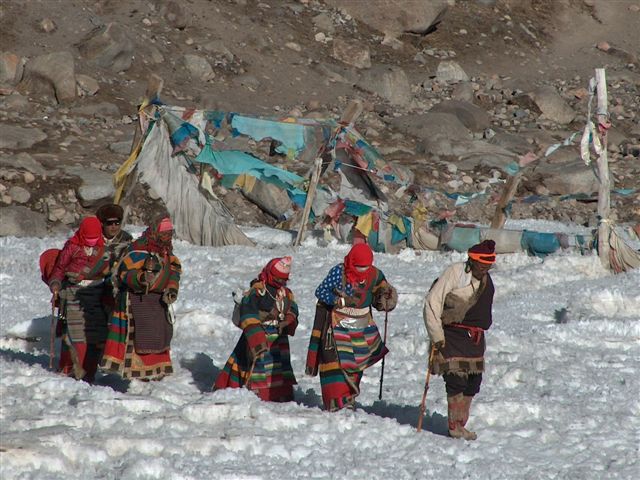 Once on top of the pass we hung up the prayer flags that we had received from the Tibetan owner of our guesthouse. In a pretty heavy snowstorm, this job was not easy. We descended on a slippery path along the frozen Tukje Chenpo lake, which should have a beautiful emerald-like color when it thaws. After the steep descent we had to "walk out" for about 3 hours towards our next camp at Zutulpuk (miracle cave), named after an action by the holy Milarepa, who found the cave where he was sitting a bit on the small side and with small gestures raised the ceiling and lowered the floor.
When we arrived there at 7.30 pm, there was already a strong breeze. Many had had a rough day and some explained the pain by having a good "spiritual purification".
After a bad night's sleep, we woke up the next morning during a heavy snow shower. In the meantime all limbs started to hurt considerably from the freezing nights on the hard, cold surface. Cracked spots on the hands and face no longer healed and only got worse under the influence of cold, sun and wind.
After breakfast we set out for the last part of the kora. A walk that first went through the beautiful valley of the Zhong Chu river. We walked on frozen stretches of river, where you heard the water roar under the thick ice layer. Magnificent. The last part we walked in hail and snow showers over the plain of Barkha back to Darchen, where we completed the kora and thus according to the Hindu belief should have erased the sins of our entire lives.
Once in the guesthouse, three out of 10 people turned out not to be inside yet, while a considerable snowstorm had started and all porters and guides were already inside. In fact, the intention was that one guide always acted as a broom wagon anyway and would stay with the last walker. After an hour the Nepalese staff became somewhat nervous and a jeep was finally sent to look for the last hikers. Fortunately, they were soon found. It turned out that they had been meditating in a cave for a while and then missed each other, so they had waited a lot for each other.
We had changed the schedule of the trip so that we would do the kora first, then go to the Sagadawa festival in Tarboche and then go to Lake Manasarovar. Our Tibetan guide gave us the choice between camping on the festival grounds or staying in the guesthouse and then driving to the festival in Tarboche early the next morning. Since most of them had been very cold anyway, almost everyone chose the latter. Unfortunately, the guide had forgotten to check whether there was any place at all and it turned out that the whole of Darchen was full, so that we could prepare for another cold night in the tent.