Report of a trek to Tilicho lake in the Annapurna area in Nepal from May 17 to May 28 – Part 3
Tilicho Base Camp is located at the end of a glacier in beautiful surroundings. The weather is wonderful and in the tent camp we really have a camping holiday feeling. Sangeeta, who has a much too thin sleeping bag, is already worried about the night temperature in the tent in advance.
Santosh and I take a walk and climb a few hundred meters higher for acclimatization. Here we come across a herd of 12 rare blue sheeps. On the way back, it starts to rain and an icy wind picks up. The camping holiday feeling in the camp gives way to a North Pole expedition feeling and we more or less flee into the nearby Tilicho Base Camp hotel, where the guide and a porter are also located. This porter, Raj Kumar, was always smiling, with a smile from ear to ear on his dark face with snow-white teeth from morning to night. But now he suddenly looks out of his eyes as if he smoked a joint the size of a baseball bat. Despite the fact that we kept telling him that he has to drink a lot at high altitudes, he has taken far too little water. We now see to it that he drinks a lot and give him a diamox tablet against altitude sickness.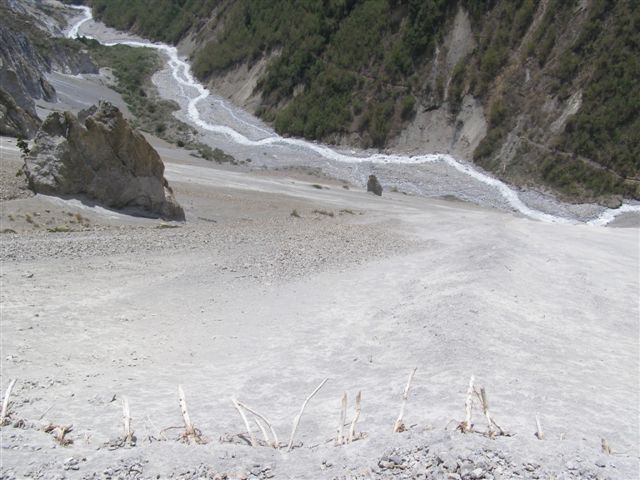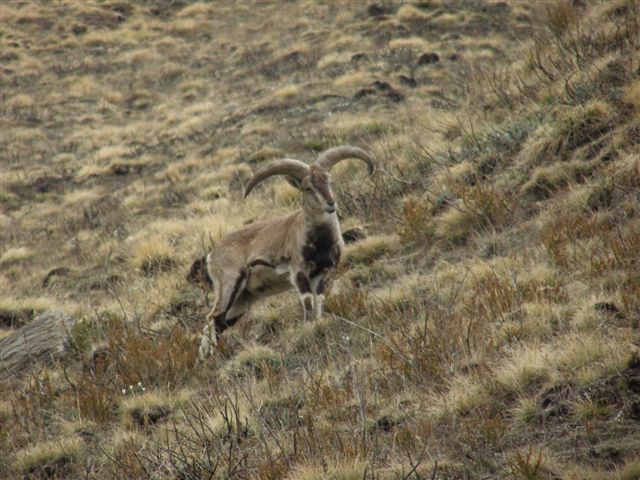 Stay overnight at Tilicho Base Camp
Sangeeta has already put the idea of ​​sleeping in a tent out of her head and has arranged a room in the hotel for an additional fee (Euro 1). Santosh and I really want to test the tents at this altitude (4100 meters) and in the rain, especially with a back-up option from a hotel. That is better than unexpectedly discovering at Tilicho Lake that the tents may not be sufficient. Fortunately, the tents are fine, we are not cold at all and everything stays dry. However, the mats are wafer-thin and with considerable pain in the joints, Santosh and I crawl out of the tent the next day.
At day ten the sun is shining and we enjoy breakfast outside (enjoyment would be a misplaced term) before we start the hike that should be the highlight of the trek. The short walk to Tilicho Lake, followed by the afternoon to enjoy the lake surroundings.
Trek to Tilicho Lake
Despite being a short walk, the altitude difference is about 800 meters, which is quite tough at this altitude.
Halfway through the walk, the guide, together with an experienced porter from Manang, takes over the "leading position" from Sangeeta and me. We are not happy with that and think that he should stick with the last two (Santosh and Raj Kumar, who did not feel well the day before). However, he replies that both are doing very well. We insist again, but the request is directed against deaf ears. A serious mistake that will cost us dearly.
Altitude sickness
When Sangeeta and I have finally reached the false flat near the lake and are able to walk somewhat relaxed again, it seems as if we hear a whistle. We look back, but don't see anyone at all over a great distance, so we assume for a while that we imagined it. A minute later, however, we hear it again, but we still don't see anyone. However, we immediately decide to wait in the shelter of a large boulder and not walk any further. We're just sitting when we hear a huge "help" roar from Santosh, while we can't see him, so he's still a long way back. Fuck, cunt, # * # * !!! We quickly split. Sangeeta runs towards the guide, I ask her to take it easy anyway and I myself "run" towards the roar. While walking, I still hear Santosh scream loudly a few times. His sound goes through the marrow and bone. When I finally reach him, he wants me to go with him right away, but I'm too out of breath and want a report first. It turns out that Raj Kumar, our smiling black prince, has serious altitude sickness, he is disoriented, nauseous and has vomited a number of times. However, my diamox is in my large backpack which was carried by the guide and I have had way too little moisture for a long time. I give my last drink to Santosh and quickly back to the guide. Halfway through I meet the guide with a porter. The guide hasn't been smart enough to get the diamox out of my bag yet. I take the porter to my bag and the guide goes to Raj Kumar.
Exhausted we reach my bag, which I quickly throw upside down and give the diamox to the porter, who sets off again. I plop on the floor to pant for a few minutes with my eyes closed and to regain my strength. When I open my eyes, I can see the whole of Tilicho in front of me. I hadn't even noticed because of all the commotion.
For a while no one comes from Raj Kumar's direction. Having caught my breath again, Sangeeta and I decide to take a closer look at / photograph the lake, because it makes no sense to look at Raj Kumar together. We give the two remaining porters the order to set up camp, with the main goal of arranging water, as we have a great shortage of moisture. That is not really useful at an altitude of 5000 meters.
Camping near Tilicho Lake
When we reach the camp an hour and a half later, the guide is still not back and the 2 porters still have not arranged water. My thirst has now risen to unprecedented levels and I am starting to feel quite lightheaded and limp in my legs. Between 7 a.m. and 3 p.m. I was able to drink less than 1 liter. Sangeeta will try to regulate water, but the river water is very muddy. Therefore, she fills a kettle with snow, but she is unable to activate the stove to cook it. For reasons that are unclear, the rest of the staff has suddenly disappeared. There is nothing for it but just eat the snow itself. I feel miserable and bewildered by the extremely unprofessional behavior of the staff: they didn't bring diamox, a guide who does not stay with the last / weakest, not enough water for the road to arrange and in the camp does not immediately pay attention to the boiling of water. Because I am well pissed-off, I sit alone on a rock 100 meters from the camp to recover myself. Instead of to unwind, I get some kind of mild hyperventilation attack. A nasty experience when you already get so little oxygen due to the altitude. When I feel a little bit better again, I walk back to the camp, where Santosh has now arrived and completely barks me, but especially Sangeeta, because the camp is in the wrong place. He thinks we passed him by when deciding where to set up camp. It should have been down by the lake instead of this place without lake view. We think so too, but we never made the decision. Because of all the circumstances, the two porters had chosen a different place themselves. His unjust accusations come at an extremely unfortunate moment for me, but are also understandable again, he had spent particularly stressful hours.
It turns out that Raj Kumar has been sent back to Tilicho Base Camp along with one of the porters. The guide had asked him if he wanted to see Tilicho lake before he went down. He had never seen it before, so he really wanted to, despite his condition. After a few meters it collapsed, so there was only one way … down and quickly.
In the meantime we have all received some food and drink and after dinner we decide to walk to the lake. I have a huge pain in my head and want to lie down first. When Santosh and Sangeeta come to see me and feel my head, they say that I have a high fever and cannot go with them. "What shall we get, I am not a small child, I decide for myself what I do". However, they persist and their talk about my "altitude sickness" certainly won't make me feel any better and a huge sense of anxiety comes over me. "What if I really suffer from altitude sickness". I surrender to the situation, take a second half of a diamox tablet and stay in bed. Santosh and Sangeeta bring drinking water and cold water to keep my cool. The towel on my head is always warm again in no time, which makes Santosh and Sangeeta make statements such as: "It's really not going well with Arno, maybe we should go down" etc, etc. moment deeply and certainly does not make you better. When checked with a thermometer, I do indeed appear to have a high fever. In the meantime I also have severe intestinal complaints, which means that I regularly have to look up space behind a boulder outside the tent. During one of those walks I feel so bad that I actually already decide that I want to go down. It is late and that would mean that we would have to descend in the dark for the most part and with this action I would really mess up the trip for Santosh and Sangeeta. I promise myself that half an hour more or less does not matter and I decide to look at it for a while. Back in the tent, the rest, the cold towels, the drinking of a lot of water and / or the diamox apparently start to pay off and slowly things improve a bit. Sangeeta and I read again carefully about altitude sickness and the differences between the mild and severe symptoms. Despite the fact that I feel very k … we come to the conclusion that my complaints do not fall under the serious category. The night before, Santosh had told about an acquaintance of his who, after very serious complaints of altitude sickness, which resulted in evacuation by helicopter, still had psychological complaints after 2.5 years, so it can always be worse.
After eating something, things get better and we go to sleep. To be on the safe side, I set the alarm for 2 hours later, to check how I feel then. Santosh asks me to wake him up if he doesn't wake up from the alarm. The next day it turns out that he also felt very bad, but kept it somewhat hidden.
When we wake up by the alarm clock, we are also forced to look for a "toilet" because of drinking a lot. While we are outside talking a bit, a sad noise comes from Sangeeta's snow / ice covered tent. Alone in a tent with a sleeping bag that is far too thin, it is far too cold to sleep. There is little else to do than to arrange a lot in the small tent, so that the three of us "fit" in a tent and the three of us can keep the tent warm. Sangeeta is warmer in the middle than ever. I myself come to lie against the canvas with my sleeping bag, so that slowly but surely half of my sleeping bag and body starts to cool down. Halfway through the night that side becomes so cold (partly due to the light snowfall) that I can barely sleep. The snoring of my two Nepalese friends does not help either. Fortunately, I had already slept deeply in the beginning, so that for this height I had made a nice night on average.
Read more : Tilicho Lake to Jomsom