More Nepalis marrying across seven seas
Marriage is something which unites two hearts no matter how far apart they are. And it is something which the hearts look forward to, irrespective of differences in caste and culture.
Sundar Man Dangol, 35, of Lalitpur, a die-hard Beatles fan, married Tamara Jean Roendall, an Australian, in 2003.
While he was in college Dangol found his true love and decided to realize his affection for Western culture by making Roendall a Nepali buhari (daughter-in-law). Dangol, who is planning to return to Australia soon, says, "I am happy with my Australian wife."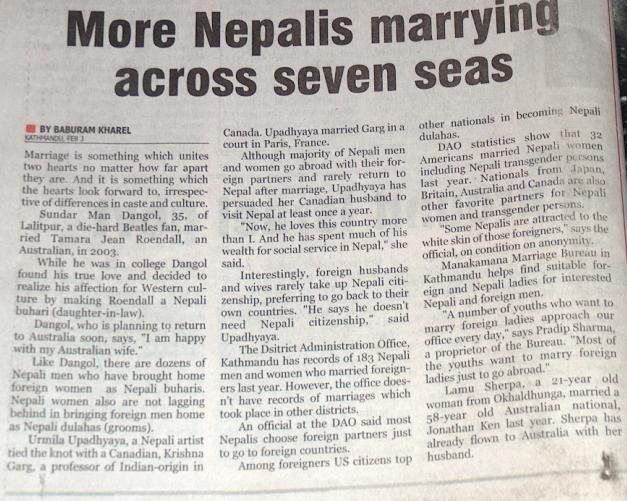 Like Dangol, there are dozens of Nepali men who have brought home foreign women as Nepali buharis. Nepali women also are not lagging behind in bringing foreign men home as Nepali dulahas (grooms). Urmila Upadhyaya, a Nepali artist tied the knot with a Canadian, Krishna Garg, a professor of Indian-origin in Canada.
Upadhyaya married Garg in a court in Paris, France. Although majority of Nepali men and women go abroad with their foreign partners and rarely return to Nepal after marriage, Upadhyaya has persuaded her Canadian husband to visit Nepal at least once a year. "Now, he loves this country more than I. And he has spent much of his wealth for social service in Nepal," she said. Interestingly, foreign husbands and wives rarely take up Nepali citizenship, preferring to go back to their own countries. "He says he doesn't need Nepali citizenship," said Upadhyaya. The District Administration Office, Kathmandu has records of 183 Nepali men and women who married foreigners last year. However, the office doesn't have records of marriages which took place in other districts. An official at the DAO said most Nepalis choose foreign partners just to go to foreign countries.
Among foreigners US citizens top other nationals in becoming Nepali dulahas. DAO statistics show that 32 Americans married Nepali women including Nepali transgender persons last year. Nationals from Japan, Britain, Australia and Canada are also other favorite partners for Nepali women and transgender persons. "Some Nepalis are attracted to the white skin of those foreigners," says the official, on condition on anonymity.
Manakamana Marriage Bureau in Kathmandu helps find suitable foreign and Nepali ladies for interested Nepali and foreign men. "A number of youths who want to marry foreign ladies approach our office every day," says Pradip Sharma, a proprietor of the Bureau. "Most of the youths want to marry foreign ladies just to go abroad." Lamu Sherpa, a 21-year old woman from Okhaldhunga, married a 58-year old Australian national, Jonathan Ken last year. Sherpa has already flown to Australia with her husband.