Vliegtuigongelukken – Nepal
Nieuwsitems en historie
Vliegtuigongelukken en ongelukken met helicopters komen helaas regelmatig voor in Nepal. Gelukkig gaat het bij de meeste incidenten slechts om materiele schade bijv voor vliegtuigen die van de landingsbanen glijden of door het landingsgestel zakken, maar af en toe zijn er ergere ongelukken waarbij vele mensen de dood vinden.
Nieuwsitem: Nepal op plaats 37 van "veiligste" landen in Azië op het gebied van veiligheid in de luchtvaart.
Een selectie van ongelukken en luchtvaart-incidenten in de afgelopen jaren:
14 oktober 2023
Weer een Manang Air helikopter neergestort
Een helikopter van Manang Air die richting Solukhumbhu vloog, stortte zaterdagochtend neer in Lobuche. Volgens Gyanendra Bhul, informatiefunctionaris bij de Civil Aviation Authority of Nepal (CAAN), was de helikopter met de roepnaam 9N-ANJ om 07.13 uur vanuit Lukla naar Solukhumbhu vertrokken om passagiers op te halen. De helikopter vloog in brand nadat deze tijdens de afdaling neerstortte. Captain Prakash Kumar Sedhai, de enige aan boord, liep verwondingen op bij de crash. Hij werd met Fishtail Air-helikopter naar de Kathmandu gevlogen.
11 juli 2023
Zes inzittenden van Manang Air helikopter omgekomen bij crash
Alle zes mensen aan boord van de Manang Air-helikopter die dinsdag neerstortte bij Lamjura in het district Solukhumbu, zijn bij het ongeval omgekomen. Volgens Raju Neupane, operationeel en veiligheidsmanager van Manang Air, waren er zes mensen aan boord van het toestel, onder wie Captain Chet Bahadur Gurung en vijf Mexicaanse staatsburgers.
5 mei 2023
Een dode en vier gewonden bij helikopter crash in Sankhuwasabha
Een dode en vier anderen raakten gewond toen een Simrik Air-helikopter vrijdag neerstortte in Bhotkhola Rural Municipality-4 van het district Sankhuwasabha. De crash vond plaats aan het begin van de middag toen de helikopter in botsing kwam met bomen. De gewonden zijn overgebracht naar Kathmandu en buiten levensgevaar.
De helikopter vervoerde bouwmaterialen naar de Upper Arun Hydropower Project site.
15 januari 2023
Vliegtuig van Yeti Airlines stort neer in Nayagaun nabij Pokhara en de lokale luchthaven
Een vliegtuig met 72 inzittenden is zondagochtend neergestort nabij het vliegveld van de Nepalese stad Pokhara. Tientallen mensen hebben de crash niet overleefd. De lokale politie zegt dat er wel enkele overlevenden zijn.
1 december 2021
Tara Air vliegtuig krijgt klapband op Bajura Airport
De passagiers van een Tara Air vliegtuig helpen om een defect vliegtuig van de landingsbaan van Bajura Airport in West-Nepal te krijgen. Het vliegtuig kon niet vertrekken vanwege een klapband.
27 september 2021
Buddha Air toestel land veilig op Kathmandu Airport na technische storing
The ATR-72 with 73 people returned to Kathmandu after landing gear indicators failed to illuminate before landing at Biratnagar. The landing gear system did not retract after the plane was preparing to land at Biratnagar airport and the pilot had to fly back to Kathmandu declaring emergency
29 november 2020
Een helikopter van Kailash Helicopter maakt noodlanding na botsing met vogel
A helicopter made an emergency landing in Nuwakot on Sunday afternoon after it was hit by a bird. All five passengers and the pilot on board are reported to have been safe. The chopper, belonging to Kailash Helicopter, was en route from Baglung to Kathmandu when it was hit by a bird at around 1:40pm.
28 maart 2020

Nepal Airlines plane sent to bring swab samples skids off runway in Nepalgunj
A Nepal Airlines airplane that was chartered to bring specimens of people suspected to have Covid-19 skidded off the runway in Nepalgunj on Saturday morning.
According to Nepalgunj airport, all five people on board the plane—two medical personnel and three pilots—are safe. The plane skidded off the runway while landing and stopped near the wired boundary.
12 juli 2019

Yeti Airlines toestel schiet van de landingsbaan. Kathmandu Airport urenlang gesloten
The airplane coming from Nepalgunj slipped off the runway just as it landed at Tribhuvan International Airport at 11:05 am.
According to THT's photo journalist Skanda Gautam, who was at the site when the incident occurred, the aircraft veered off the runway, causing temporary runway
closure and disruption in flight operations. All passengers are safe.
7 mei 2019

Ultralight vliegtuigje crasht in Pokhara
An ultra-light aircraft overshot the runway while landing at the Pokhara regional airport in Pokhara Metropolitan City. No one was hurt in the incident, according to the airport official.
22 april 2019

Tara Air toestel schiet van de landingsbaan op Manthali airport
A Tara Air plane skidded off the runway at
Manthali Airport in Ramechhap on Monday morning. According to Bhim Raj Rai,
media manager at the Yeti Airlines, which owns Tara Air, the incident occurred
after one of the tyres of the aircraft burst while landing at 9:38am.
14 april 2019

3 doden bij vliegtuigongeluk met Summit Air toestel op Lukla Airport
A co-pilot and two policemen were killed when a
Summit Air plane skidded off the runway during take-off and collided with two
parked helicopters at Lukla airport on Sunday morning.
Zie ook op
youtube.com
26 feb 2019

Helicopter met Tourism Minister aan boord crasht in Taplejung, 7 doden.
A private helicopter crashed shortly after takeoff
on Wednesday in Taplejung, killing seven people on board, including Tourism and
Civil Aviation Minister Rabindra Adhikari.
8 sept 2018

Altitude Air helicopter neergestort in Nuwakot; 6 doden, 1 overlevende
The missing Altitude Air helicopter with seven
people onboard has been found crashed at a gorge in Mailung Pakha of Myagang
Rural Municipality, Nuwakot. The chopper had gone missing from Samagaun of
Gorkha district today morning. According to Nuwakot police chief SP Basanta
Bahadur Kunwar, six persons have been found dead in the crash site while one
woman was alive.
1 sept 2018

Yeti Airlines toestel ontsnapt aan vliegtuigongeluk op Kathmandu Airport
A jet stream aircraft belonging to Yeti Airlines
has narrowly escaped an accident at Tribhuvan International Airport, on
Saturday. The plane with call sign 9NAHW, flown from Nepalgunj, skidded off to
the grassland while landing at the runway. The plane had landed at around 8.30
pm carrying 21 passengers. All passengers are safe, according to the airport
officials
9 juni 2018

Tara Air toestel crasht tegen hek naast landingsbaan Jumla na klapband
Tara Air aircraft flying from Nepalgunj to Jumla
had a narrow escape on Saturday at Jumla Airport after one of its tyres blew on
landing, officials said. The nose of the aircraft suffered damages accident,
Manager Bhimraj Rai of the airlines company said. All the 18 passengers and
three crew members are safe.
19 april 2018

Een Airbus van Malindo Air
(Maleisië) schiet van de landingsbaan in Kathmandu
A Malindo Airplane flying to Kualalumpur, Malaysia
from Tribhuvan International Airport, Kathmandu on Thursday night narrowly
escaped disaster. 'The Airbus skidded off a runway some 100 feets south and
stopped along a grassy area between the airport's runways after its nose wheel
could not keep to the runway' said Premnath Thakur, Director of Airport
Operation. All 139 passengers are safe.
18 maart 2018

Yeti Airlines toestel
ontsnapt aan ongeluk op Bhairawa Airport
An aircraft belonging to Yeti Airlines has
narrowly escaped from an accident at Gautam Buddha Airport, Bhairahawa on
Sunday. The landing gear of the plane was locked at the runway while making land
at the airport.
12 maart  2018

Meer dan 50 doden bij neerstorten vliegtuig op vliegveld Kathmandu
Over 50 people feared dead and several others
injured as a Bombardier Dash Q-400 aircraft operated by US-Bangla Airlines
crashed while landing at the Tribhuvan International Airport.
07 Februari 2018

NAC vliegtuig ontsnapt aan
ongeluk
An aircraft of Nepal Airlines Corporation bound
for Rukum from Kathmandu has escaped an accident on Wednesday. The hydraulic
pipe on the right wing of the aircraft suffered damage when it landed at Salle
airport on Wednesday afternoon. According to security officials, the aircraft
would meet a big accident if the hydraulic pipe had burst in the air.
12 Oktober 2017
Vliegtuig van Sita Air naast landingsbaan van Lukla Airport belandt
A Sita Air Dornier aircraft has been involved in
runway excursion at Tenzing Hillary Airport in Mt Everest region during take
off. All nine passengers of the aircraft were safe. The aircraft was involved in
runway excursion making a left alignment from the central line of the runway at
Lukla airport when the plane piloted by senior captain DK Shah was preparing to
take off for Kathmandu at around 7:30 am.
29 mei 2017

Pilot omgekomen en 2 gewonden
na neerstorten Nepal Army vrachtvliegtuig
Flight commander Kailash Gurung of Nepal Army died
in a cargo aircraft accident that crashed near Bajura-based Kolti airport while
NA Colonel Gurung was trying to land it. The injured are Co-pilot Alita Ale
Magar and a crew member Subedar Purna Khadka.
27 mei 2017

Summit Air vliegtuig stort neer
bij Lukla Airport, piloot omgekomen
Captain of the ill-fated aircraft belonging to
Summit Air (Goma Air) has died as plane crashed at Tenzing Hillary Airport on
Saturday afternoon. Injured captain Paras Kumar Rai died while receiving
treatment, informed DSP Madhav Prasad Budathoki. Other two crew members co-pilot
Srijan Manandhar and air hostess Pragya Maharjan are injured in the incident.
They are receiving treatment at local Pasang Lhamu Nicole Niki hospital.
This crashes has been

recorded by CCTV cameras at Lukla Airport.
23 april 2017
Sita aircraft makes emergency landing, escapes accident
An aircraft of Sita Airlines bound for Lukla
ariport made an emergency landing at Phaplu airport on Sunday. There was no
reports of injuries but the aircraft sustained minor damage. The aircraft with
call sign 9 NHR that took off from Kathmandu had to make an emergency landing at
Phaplu airport due to adverse climate. There were 17 people including three crew
members on board.
27 januari 2017
Legerhelicopter met president
Bhandari aan boord maakt noordlanding
A Nepal Army helicopter with President Bidya Devi
Bhandari on board has made an emergency landing near Arjun khola, Bhaluwang, in
Dang district According to Dang district police chief, SP Dhiraj Pratap Singh,
the chopper was forced to make an emergency landing at 11:30 in the morning.
15 januari 2017
Doorstart van AirAsia toestel
omdat er honden op de TIA landingsbaan lopen
An aircraft of AirAsia from Kuala Lumpur, Malaysia
overshot runway on Sunday afternoon after three stray dogs took over the runway.
The Tribhuvan International Airport (TIA) Control Tower directed the crew not to
approach for landing after seeing the dogs roaming at the runway. The aircraft
was above Koteshwor when the tower directed the crew to abort landing. The entry
of the dogs at the airport also impacted flights of Air India and Jet Airways.
11 januari 2017

Platte band voor Goma Air
vliegtuig bij landing op Talcha airport
An aircraft of Goma Air that had flown from
Nepalgunj with 15 passengers on board averted an accident at the Rara-based
Talcha Airport on Wednesday though one of its tires flattened while landing.
District Police Office, Mugu, quoting police at the airport said that the rear
right tire of the aircraft burst while landing at the airport at around 11 am
today. But fortunately, nothin untoward happened and all the passengers and crew
members are safe.
26 september 2016

NAC Airbus uit New Delhi maakt
noodlanding op Tribhuvan airport in Kathmandu
An aircraft of Nepal Airlines Corporation (NAC)
that flew from New Delhi has made an emergency landing at Tribhuvan
International Airport (TIA) on Monday afternoon after a smoke alarm went on at
the cockpit. TIA Spokesperson Premnath Thakur told Republica Online that the
smoke alarm went on when the Airbus A320-220 with the call sign 9N-AKX was
approaching for landing at an altitude of 12,500 feet.
25 september 2016

NAC aircraft aan de grond
gehouden na technische problemen in de lucht
An aircraft of Nepal Airlines Corporation (NAC)
has been grounded following landing at the Tribhuvan International Airport (TIA)
from Dubai on Sunday. The Airbus A 320, with the call sign 9N-AKW, had suffered
a technical glitch mid-air.
25 september 2016

Mountain Air helicopter maakt
noodlanding
A Mountain Air chopper heading towards Kathmandu
from Lukla was compelled to make a forced landing due to a technical problem.
According to an official of Mountain Air, the helicopter with call sign 9N ALQ
was force-landed in a field after there was a technical problem in the engine
within 13 minutes of takeoff.
24 september 2016

Yeti Airlines belandt naast
landingsbaan op vliegveld van Bhairahawa
An aircraft of the Yeti Airlines has met with an
accident while landing at Gautam Buddha International Airport in Bhairahawa on
Saturday afternoon. The aircraft flew to Bhairahawa from Kathmandu had met with
the accident at the airport runway at around 4:15 pm. The aircraft was dislodged
150 meters south from the runway. A total of 32 passengers including three crew
members were on board and no human casualty was reported.
13 september 2016

Nepal Airlines krijgt klapband op
landingsbaan / Tribhuvan airport tijdelijk gesloten
A tire of an aircraft of Nepal Airlines
Corporation from New Delhi got flattened while landing at Tribhuvan
International Airport. TIA sources told Republica Online that one rear tire of
the aircraft burst while it was heading to parking bay while landing. The
country's only international airport has been closed after the aircraft got
stuck at runway.
10 augustus 2016

738 doden in 70 jaar luchtvaart
in Nepal
Nepali skies have claimed the lives of more than
738 people in 55 air accidents over the past seven decades. Aviation Safety
Network (ASN) figures show that the death toll from plane crashes have increased
to 172 this past decade (2006-2016) against a toll of 103 in the previous
decade.
8 augustus 2016

Fishtail helicopter crasht bij Chucche cliff (Nuwakot)
All seven people, including a new-born, on board a
Fishtail Air helicopter that crashed at Bhetini in Nuwakot district on Monday,
have been confirmed dead, Nepal Army Brigadier General Tara Bahadur Karki said.
The wreckage of the crashed chopper was found at Chucche cliff of Bhetini,
Madanpur-9. The helicopter that took off from Gorkha this afternoon was
airlifting the new-born for treatment in Kathmandu with her mother.
4 augustus 2016

Makalu Air cargo vliegtuig maakt
harde noodlanding in Helambu river in Humla
A Makalu Air plane crashlanded in a river in Humla
on Thursday afternoon leaving the pilot and co-pilot injured. The single-engine
aircraft with call sign 9NAKC was returning to Surkhet after transporting cargo
to Simikot of Humla. There were just pilot Sange Lama and co-pilot Prashanta
Shah in the plane. Four minutes after takeoff from Simikot, they noticed a
problem in the engine and crashlanded the plane in the Helambu river.
17 maart 2016

Fishtail helicopter crasht bij opstijgen
A helicopter of Fishtail Air met with a minor
accident while taking off from Langtang, Rasuwa for Dhunche of the district.
26 februari 2016

Piloot en co-piloot komen om bij noodlanding Air Kasthamandap vliegtuig
Yet another aircraft on a domestic flight has met
with a fatal accident, just two days after the Tara Air Twin Otter crash. An Air
Kasthamandap Stol crash-landed at Chilkhaya in Kalikot district on Friday
afternoon, killing both the pilot and co-pilot.
24 februari 2016

Tara Air vliegtuig crasht tijdens vlucht van Pokhara naar Jomsom
Een vliegtuig met zeker 23 passagiers is
neergestort bij Dana VDC-2, Solighopte in Myagdi district in het Himalaya-gebergte in Nepal. Het passagiersvliegtuig van Tara
Air had zeker twee buitenlandse toeristen aan boord.

"Crash course": een artikel over het gebrek aan inspanningen van de
Nepalese overheid om de veiligheid van het vliegverkeer te verbeteren.
4 september 2015

Bijna botsing boven Bharatpur tussen Nepal Airlines 757 vliegtuig en Simrik
Airlines B1900C toestel
The Civil Aviation Authority of Nepal has decided
to ground pilots and ATC officers after Doha-bound Boeing flight came close to a
descending Simrik Air plane over Bharatpur area on September 4 giving a scare to
about 200 passengers on board the two aircraft.
22 juni 2015

Simrik Air helicopter neergestort bij opstijgen in Gorkha district
A Simrik Air helicopter (9N-AKF) caught fire and
crashed during takeoff at Samagaun VDC-7 in northern part of Gorkha district.
However, the pilot and passengers, who had a narrow escape, are safe now.
The pilot had to land the helicopter at Samdo village in Samagaun VDC after he
faced difficulty tracking the destination. The pilot then landed the chopper at
a narrow place between the mountains.
2 Juni, 2015

4 doden bij helicoptercrash in Sindhupalchok
A helicopter returning from Dolakha after distributing relief to earthquake
victims crashed in Yamuna Danda VDC in Sindhupalchok district on Tuesday,
killing all four onboard, Nepal Army confirmed. The chopper flying at low
altitude rammed into a high tension electric line and burst into flames at Shila
Parbat Jungle, eyewitnesses said.
ook op 2 Juni, 2015

Goma Air vliegtuig maakt neuslanding op Pokhara Airport
An aircraft of Goma Air made a successful emergency landing at Pokhara
Airport after its nose gear failed to deploy due to a malfunction. The pilot of
the Czech-made Let L-410 aircraft, flying into Pokhara from Jomsom, skidded the
plane along the runway after the malfunction. All 18 passengers on the plane are
safe
12 mei, 2015

Helicopter van Amerikaanse leger neergestort, 8 doden
De helikopter nam deel aan een humanitaire missie voor de slachtoffers
van de aardbeving in Nepal. In totaal waren acht mensen aan boord. Later bleek
dat er naast de 8 militairen ook 5 burgers aan boord waren, waardoor het totaal
aantal doden op 13 kwam.
4 Maart, 2015

Airbus A330 van Turkish Airlines schiet van landingsbaan in Kathmandu
Een Airbus A330 van Turkish Airlines is
woensdagochtend van de enige landingsbaan op het vliegveld van Kathmandu
geschoten. Dichte mist en een gladde landingsbaan zijn waarschijnlijk de oorzaak
van het ongeval. Van de 238 passagiers raakten enkele gewond.
Daar de vleugel van het toestel boven de landingsbaan hing, was deze gestremd.
Het duurde 4 dagen voor dat specialisten uit India en Turkije de Airbus konden
verplaatsen. Tienduizenden passagiers stranden in Kathmandu en vliegvelden in
o.a. het Midden-Oosten (bijv Abu Dhabi).
3 Augustus, 2014

Rotor van Fishtail Air Helicopter doodt man
Last Resort employee Ram Hari Rimal died after being struck by the rotor blade
of a Fishtail Air helicopter which was airlifting victims of the Jure/Sunkoshi
landslide and flooding.
16 februari, 2014

18 doden bij vliegtuigcrash in Argakhachi
18 mensen zijn zondag om het leven gekomen bij een crash van een Nepal Airlines
Twin otter. Het toestel,  onderweg van Pokhara naar Jumla, stortte aan het
begin van de middag neer bij Masine lekh in Argakhachi op een hoogte van 7000
voet.
26 september, 2013

Vier gewonden bij helicoptercrash in Lukla – Solukhumbu
Door een ongeval met een helikopter op de Lukla Tenzing-Hillary Airport zijn
vier personen gewond geraakt, waarvan 2 ernstig. Het ongeluk gebeurde toen de
helikopter een kabel van een afrastering op de luchthaven raakte.
20 juni, 2013

Dode bij helicoptercrash in Muchu – West Nepal
One person was killed and three injured after a Fishtail Air chopper bound to
Simikot, the district headquarters of Humla, crashed at Dumkot in Muchu VDC.
27 mei en juni, 2013
2 incidenten op het vliegveld van Simikot in Humla district. Op 27 mei glijdt
een vliegtuig van Goma Air van de landingsbaan nadat het bij het taxiën een
lekke band had gekregen. Op 1 juni belandt een vliegtuig van Sita Air naast de
landingsbaan na een harde landing tijdens slecht weer. Bij de incidenten vielen
geen slachtoffers.
Zie de berichten van

27 mei en

1 juni
16 mei, 2013

Nepal Airlines vliegtuigje schiet van de landingbaan van Jomsom
Een vliegtuigje van Nepal Airlines met 19 passagiers en 3 crewmembers is tijdens
de landing bij Jomsom Airport van de baan geschoten en in de Kali Gandaki rivier
belandt. Een aantal inzittende raakten gewond. O.a. de piloot liep zware
verwondingen op. Onder de inzittenden waren acht buitenlanders.
28 september, 2012

Sita Air vliegtuig crasht nabij Kathmandu Airport
Op circa 500 meter van het Tribhuvan International Airport in Kathmandu is vrijdag een vliegtuig brandend neergestort, waardoor alle 19
inzittenden, waaronder 7 Britten en 5 Chinezen, zijn omgekomen. Het toestel van
Sita Air was op weg naar Lukla Airport in de Everest regio.
Nb precies 20 jaar geleden op 28 september 1992 vonden 167 mensen de dood bij
een crash van PIA (Pakistan International Airlines op een berghelling even ten
zuiden van de hoofdstad Kathmandu.
14 mei, 2012

Toestel Agni Air crasht bij Jomsom Airport
Een vliegtuig met daarin 21 mensen is neergestort in het noorden van Nepal in
het Himalaya-gebergte. Hierbij zijn zeker vijftien mensen omgekomen. Het
vliegtuig had 18 passagiers, waarvan er zestien uit India komen en twee met een
Westerse nationaliteit.
29 november, 2011
Fishtail chopper crashes in Solukhumbu
Fishtail Air helicopter met with an accident in Lobuche of Solukhumbu soon after
taking off for Lukla of the mountainous district on Tuesday afternoon. All three
people on board including the pilots are said to be safe, Mahendra Kumar Rai,
the Air Traffic Controller at the Luka Airport told a Kathmandu-based television
station over telephone.
26 november, 2011

Sita Air plane crash-lands at Nepalgunj airport
A plane belonging to Sita Air crash landed at Ranjha Airport in Nepalgunj on
Saturday. All crew members and passengers on the plane are safe, said Civil
Aviation Authority, Nepalgunj. The chartered aircraft, 9NAHR, had taken off from
Jumla and was to land in Nepalgunj. It crash-landed after its landing gear
failed, said officials. Civil Aviation Authority Nepalgunj office chief Narendra
Thapa said major damage was averted thanks to the pilot. Pilot Fijunath Nepali
said he prevented the plane from catching fire by killing the engine after
learning that the landing gear had malfunctioned.
21 november, 2011

Makalu Air plane 'crash-lands' at Talcha airport
An aircraft of Makalu Airport caught fire while landing at Talcha Airport of
Mugu district (near Rara Lake) on Monday evening. With nine passengers and two
crew members, the 9NAZM plane had took off from Nepalgunj at 4 pm. Captain PJ
Shah and three passengers have been injured in the incident. Preparations are
being made to airlift the injured for treatment. Sashikala Budha and Parshuram
Nepali, both of them residents of Roba VDC in the district, have been seriously
injured.
07 november, 2011
Fishtail chopper makes emergency landing at Charikot
A helicopter of the Fishtail Air with five tourists on board that had left for
Kathmandu from the Tenzing Hillary Airport, Lukla has made an emergency landing
at Charikot, Dolakha citing technical snag in course of the flight. An official
at the Civil Aviation Authority of Nepal (CAAN) Office, Lukla said although a
technical problem was reported in the helicopter, it is not ascertained yet what
the main problem was.
26 oktober, 2011

Yeti Airlines plane engine explodes at Pokhara airport
A possible airplane disaster was averted in Pokhara in the context of a series
of airplane accidents. The engine of the 9N AHW (Jet Spring) airplane of the
Yeti Airlines exploded as the aircraft was about to take off at Pokhara airport
this evening. The plane was scheduled to fly to Kathmandu with 23 passengers on
board. There was flame out after the engine exploded, but fortunately a major
disaster was averted as the plane had not taken off from the runway.
18 oktober, 2011

Nepal Army plane crashes with six on board
A Britten-Norman Islander of the Nepal Army (NA) crashed on a hillock called
Chaudhulko Dhuri at Bowang-9, Baglung, at 7.15 pm Tuesday. The ill-fated
islander, which was carrying a patient to Kathmandu and had six people on board,
lost its way shortly after it took off from Nepalgunj Airport at 6.35 pm and
crashed on the hillock. There were two crew members, a doctor, medico, a patient
and his elder brother on board. The plane was one of the two gifted by the
British government in July 2004 when the Maoist insurgency was at its peak and
was equipped with surveillance devices.
16 oktober, 2011

A Nepal Airlines plane met with a minor accident Sunday afternoon after it
skidded off the run way at Lukla Airport in Solukhumbu district. The
aircraft was hired by Tara Air. The 9N-AVO twin-otter went out of control due to
the failure of the hydraulic break in the runway, according to airport sources.
19 persons on board the aircraft including 16 passengers and 3 crew members are
safe.
7 oktober, 2011

Tara Air cargo aircraft skids off runway in Lukla.
The 9N AIV Pilatus porter aircraft of the Tara Air skidded off the
runway in Lukla, around noon Thursday. The plane met with the mishap at 12:15 pm
while trying to land carrying a cargo from Ramechhap, as it hit a gate of the
Hotel La Villa 15 metres away from the runway after being uncontrolled while
landing, witnesses told RSS. Although the aircraft has been totally damaged,
Captain Kosh Thapa is unhurt, said the Lukla Civil Aviation Office. Last year,
Sita Air had similar accident here, and the aircraft is still there.
25 September, 2011
Buddha Air
plane crashes at Lalitpur; all 19 on board killed.
A Buddha Air plane returning from mountain flight crashed at Kotdanda
hill in Lalitpur district Sunday morning, killing all 19
persons on board including three crew members. According to locals and
security personnel involved in rescue, 18 persons were killed on the spot while
one passenger, Nirajan Karmacharya, 36, who was rescued alive, died while
undergoing treatment at B&B Hospital at Saatdobato, Lalitpur.
24 June, 2011
Tara Air plane crash lands in Simikot airport.
A Tara Air cargo plane has crash-landed at the Simikot Airport, in Humla
on Friday morning. The Tara Air Dornier 228 from Nepalgunj met with the accident
after it skidded off the runway, while landing, reports said. There were three
crew members in the cargo plane which was carrying rice to Humla. All the crew
members including pilot BR Niraula are unharmed.
06 November, 2010

Fishtail Air helicopter crashes near Mt Ama Dablam killing
two people.
The bodies of Captain Sabin Basnet and Technician Purna Awale have been
brought to Kathmandu today from the Fishtail Air helicopter 9N AIK-AS350, which
crashed near the base camp of Mt Amadabalum on Saturday morning. The chopper was
on a mission to rescue two Japanese mountaineers, who had fallen ill at the base
camp of the Mt Amadabalum.
10 Oktober, 2010
Makalu Air plane crash lands in Simikot airport.

A cargo aircraft owned by Makalu Air met with an accident at Simikot Airport
in Humla district. The airplane (with 2 crew members on board) met with the
accident at 7.05 a.m. when it experienced some technical malfunctioning while
landing. The aircraft lost control over its brake in course of turning from the
west corner of the airport's runway. However, the pilot managed to preclude
further misfortune with his expertise.
24 augustus, 2010

Agni air plane crashes in Makwanpur, 14 aboard killed
A small aircraft owned by Agni Air crashed in Makawanpur, southwest of
Kathmandu, early in the morning Tuesday, killing all 14 people onboard. The
plane has broken into pieces and all those on board were killed, eyewitnesses
confirmed. Six foreigners, five Nepalis and three crew members were aboard the
ill-starred Dornier aircraft. Four Americans, one British and one Japanese
national are among the deceased foreigners.
8 Oktober, 2008
Twelve German tourists among 18 people killed when a passenger plane crashed
during landing at Lukla.
23 September 2006

24 people killed in helicopter crash in eastern
Nepal.
Officials in Nepal say all 24 people, including a group of
conservationists, who were in a helicopter which crashed in eastern Nepal have
been killed. The helicopter lost radio contact during bad weather after it took
off in a mountainous district on Saturday. The chopper was carrying seven WWF
employees – four Nepalis, an Australian, a Canadian and an American.
22 Augustus 2002
Nepal plane crash
near Pokhara kills 18 people.
A small plane carrying 18 people,
including 15 foreign tourists, crashed today as it approached the western
Nepalese resort town of Pokhara, killing all those aboard, police said. The
plane was carrying 13 Germans, one Briton, one American and three crew members,
Pokhara's police chief, Kumar Koirala, said. He confirmed that thirteen bodies
have been recovered so far.
Zoals gezegd dit is slechts een deel van de
incidenten. Het werkelijk aantal vliegtuigongelukken en slachtoffers is helaas nog
groter.
Lukla Airport
Lukla's Tenzing-Hillary airport in de Everest
regio in Nepal is een van de gevaarlijkste vliegvelden in de wereld en ligt op
een hoogte van 2.800 meter in Solukhumbu district.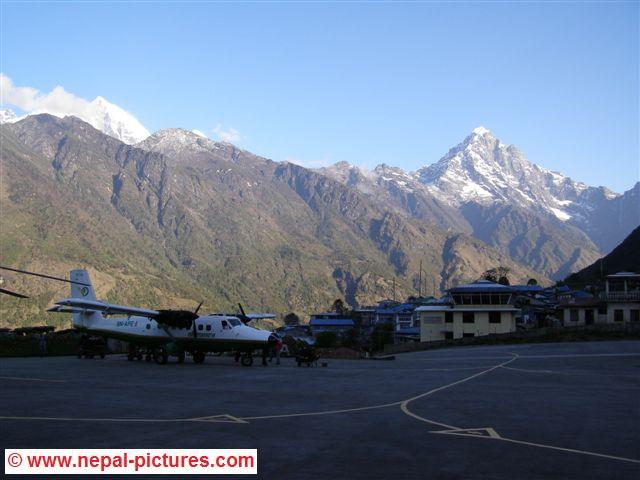 De
korte landingsbaan (460 meter) is alleen geschikt voor short-takeoff-and-landing
(STOL) aircrafts (zoals de twin-otters van Tara Air/Yeti Airlines) en
helicopters, heeft een helling van 12% en eindigt met een stenen muur aan de ene
kant (heuvelopwaarts) en een kleine afgrond aan de andere kant, die gevolgd
wordt door een diepe vallei een stukje verderop.
Zodra een piloot de start heeft ingezet kan deze niet meer worden afgebroken en
moet deze poging dus succesvol zijn. Hetzelfde geldt voor de landing daar een
hoge berg achter de landingsbaan een doorstart onmogelijk maakt.
Vluchten vinden meestal plaats tussen zonsopgang en het middaguur als de
weersomstandigheden goed zijn (goed zicht en niet te veel wind). Dit is niet
altijd het geval en soms in het vliegveld enkele dagen tot meer dan een week
gesloten waardoor vele toeristen en Nepalezen stranden.
Gerelateerd nieuws
Bad weather disrupts flights to Lukla Airport, Thousands of tourists stranded
(03-11-2011)
SOLUKHUMBU: No flight has been made to the Tenjing-Hillary Airport, Lukla, on
the third consecutive day on Thursday, due to unfavorable weather, where more
than 50 flights were made in each day. Thousands of foreign tourists, who want
to return to Kathmandu completing their trekking, have been stranded in Lukla
due to the disruption of flights. Dangima Sherpa, a hotelier, said tourists have
been packed in hotels of Lukla Bazaar due to the bad weather for the past three
days.

Over 1500 stranded tourists rescued (nepalnews.com 21-11-2010)
More than 1,500 tourists and passengers stranded at Lukla, the only airport for
the Everest region, for more than a week have been rescued on Saturday with the
help of the Army helicopters and other helicopters and airplanes operated by
private airlines. They were stranded there due to bad weather in the region
which hindered the operation of regular flights to and from Lukla.
Video's
Hieronder vind je 2 filmpjes mbt Lukla airport:
Take-off from Lukla Airport
Landing at Tenzing-Hillary runaway